…because you have other shizz to do.
Where I've been this week on the www.
All summed up so you can move on with your life.
~ ~ ~ ~ ~ ~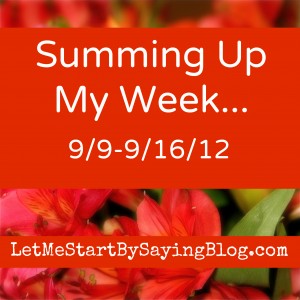 The What Parents Say. What Parents Mean. chart from the blog post of the same name was shared approximately one gagillion times on Facebook, proving I'm a really good translator.
Not to shock you, but I can be a bit of a smartass. But so can you. Which may be why my Pinterest-friendly cupcake recipe made the rounds, despite my blog (and everyone else's) crashing earlier in the week.
I don't want to start crying again, so I'll just quickly say that your comments, sharing, and kind messages about the anniversary of 9/11 and my post about what stays with me meant more than I can say. That's all I can say about that.
My 7yo broke his arm for the 1st time, and your tips, advice & well-wishes were greatly appreciated.
I got to announce the winners of the Raina Telgemeier books I was giving away on @TheMomPledge blog.
My 5yo daughter said she had a stick in her hair. This is what I discovered:
She also expressed her dislike of the word "No" in a way only she could.
I got my ass kicked by hearing a "No", too. Your comments made it all better.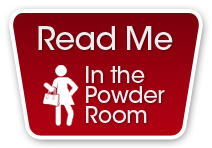 I co-designed some jewelry with MyPrettyChicBoutique to sell on WeShop. Do you like?
See the COLORFUL AGATE NECKLACE on WeShop here.
See the SWAROVSKI SPARKLE EARRINGS on WeShop here.
Like winning things? Enter to win an anti-microbial baby blanket made of recycled water bottles HERE, or create a Naughty Craft & win BIG naughty prizes HERE.
Stuff I Loved: THIS loveliness by @TheManwife, THIS insightfulness by @AbbyHasIssues, THIS dirty-mindedness by @HowToBeADad, THIS ass-whooping hilariousness by @TheBeardedIris.
Some of my favorite tweets:
Good thing I have nothing to do ever again forever.#Pinterest

— The Next Martha (@TheNextMartha) September 16, 2012
Just saw 3 guys in leather jackets on mopeds. Hecks Angels?

— moooooog35 (@moooooog35) September 15, 2012
My husband just came out wearing a striped shirt and my 2yo told him he looked like Steve from Blue's Clues. He changed.

— Ilana Wiles (@mommyshorts) September 15, 2012
Screamed at the grocery store by my 3 y/o: MOM. I SAID: WHEN ARE WE GONNA GO TO FUCKY FEEZES?!

— Kristine (@waitinthevan) September 13, 2012
I have 5 wonderful blog sponsors (purchasers of ad space) who make me happy and help pay a babysitter so I can write without children hanging from my neck. Please help me show them some love by checking them out & Liking them on Facebook. Thanks! If you are interested in advertising here, ads start at $15/month (details here).
If you'd like to join them, I'm offering 25% off all ads with promo code AQUARTER.
Forever 51 = Mary Anne's amusing adventures after 50.
Abby Has Issues (the Book) = 100% profits from the sale help animals in need.
Pocketful of Joules = Career girl gone mom. Writes about wild horse sex.
My Pretty Chic Boutique = An Etsy shop of stone & beaded jewelry that I covet.
Splendid Junk = Etsy shop of lovely vintage goods, including Back-to-School.
Okay, now I think that's everything. Back to your regularly-scheduled weekending…
Comment with Your Facebook Account
Comments