Life likes to keep me on my feet, lemmetellya.
I raise my arms as we go up on this roller coaster, and I'm all Yaaaaaayy! Wheeeee!, then the track drops, I lose a shoe, and the ride down makes me feel like I'm gonna barf.
At my kids' school, once the kids are released, many of us let them play on the playground for a few minutes to get the sillies out before the afternoon hours of homework, sports practices, and responsibilities begin.
Yesterday was a glorious day, all sunshine and good moods. A friend who I hadn't seen in a month called my name, and we walked the playground, staying within sight of our kids, as we caught up.
Then, The Scream.
I turned to see my 7yo holding his arm and running towards me. The look on his face told my gut This is bad. When he got close enough to me, he whined "Mama I fell off the monkey bars and broke my arm!" I scooped him up, grabbed our bags, yelled for his sister and ran to the ER.
He was right.
I am calm in emergencies, but Holy Crap on a Cracker: MY BABY BROKE HIS ARM. I expected him to freak out, but he was so brave. Then, once they put the temporary cast on so we could drive to the Pediatric Orthopedist, he was adorable. Funny. Charming.
After a drive to another hospital, more pokes and prods, removal of the cast, then application of the real cast, he said to me in the car ride home: "Mama? I am so lucky. I only have to miss 3 soccer games and 3 practices. I am so lucky!"
Then I cried proud tears and asked if I could be the first to sign his cast.
Just like in my personal life, my professional life has its ups and downs, too.
A couple of awesome ups are my weekly gig at InThePowderRoom.com, and something fun I am announcing today that happened because of it.
I'm a HUGE fan of jewelry.
At night I lay in bed perusing Etsy's jewelry section like it's porn. My collection of earrings, necklaces, and bracelets is what we could safely call "Not Small."
So when InThePowderRoom's online marketplace called WeShop started up, I decided to ask one of my longtime blog sponsors, Kelly of MyPrettyChicBoutique, if she'd be interested in collaborating on some jewelry to sell there.  She said yes. (SQUEEEEE!!!!)
It was so damn fun. 
My goal was to create earrings and necklaces that I would wear, that were affordable, and could be worn with anything from casual outfits to a night out. We did good.

Come check out the COLORFUL AGATE NECKLACE and SWAROVSKI SPARKLE EARRINGS. Yep, that's me modeling all of it in the WeShop store!
They come in a variety of colors, and I've been getting compliments on mine every day I wear them.  I am constantly wearing them. They are that fabulously wearable.
Here they are on Pinterest, for your Pinning Pleasure. If you like them? I'd love it if you Re-Pinned, Tweeted, shared them with your friends and fans. Not only am I proud of our work, but I do earn a small percentage of each sale. And we all know that I love me some extra babysitting money.

(Click an image below to go to the Pin on Pinterest)
Now, as fun as this was? Being a writer isn't always a hoot. CLICK HERE to read about a very (holy crap VERY) bad day I had recently, and how I knew I had to handle it.  Make sure to bring your tiny violins and Sad Pandas, because I hate to pity party alone.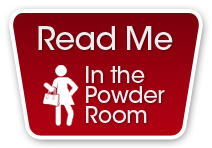 I hope to see you over there & promise to reply to every comment. As always.

Comment with Your Facebook Account
Comments