…because you have other shizz to do.
Where I've been this week on the www.
All summed up so you can move on with your life.
~ ~ ~ ~ ~ ~
You were able to relate to my Vacationing in Washington, DC with the kids Visual Aid.
I made @NoblePig's 2-ingredient pumpkin cake, died of joy, came back to life, then shared it with you. Next up: I'll try it with Spice Cake Mix. [passes out again]
I'm hosting a giveaway til 9/14 HERE, on TheMomPledgeBlog. I explain why I'm doing it HERE. Not too many entries, so let's rally and try to win these books, shall we?
Last week my kids went back to school, so I shared my 'Twas the Night Before School Starts and a musical tribute.  I also went a little crazy on making SomeECards on the subject:


I like to put this stuff on Pinterest. Why don't YOU…
I'm not one for tracking numbers, but 18 months ago I started my Facebook Page and hoped that maybe – maybe? – I'd get a few hundred followers a year. This week I reached 5,000. I appreciate every single one of you.
Want an easy way to check blog posts of mine? I created a Facebook Photo Album of Blog Posts. You can flip through the images quickly, sharing the ones you love right there on Facebook, or clicking on the links to read the full posts of others that interest you.
Are you crafty? Or not? Like winning things? Then enter this naughty craft contest hosted by @TheSuniverse & @TheBeardedIris.
This week, I didn't just make a green (possibly sarcastic?) Back-to-School shopping list on InThePowderRoom. Oh no. I prefaced it with getting gored at Target & giving birth.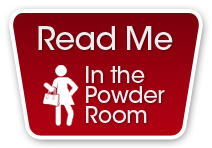 Stuff I Loved: THIS randomness. THIS on Robin's Chicks & THIS by Regular Guy on InThePowderRoom were too sweet not to share.
Some of my favorite tweets:
My hubs worked in the yard ALL day and is now playing checkers with our 5 yo. Poor thing must think it's Steak and a BJ day.

— Leslie Marinelli (@TheBeardedIris) September 9, 2012
DS, 10, lamenting: "We don't ever have any money." Me: "But you're RICh in love." DS: "You ruin everything."

— Alexandra Rosas (@GDRPempress) September 8, 2012
I hear the phrase "don't forget to wash your vagina" in my house so often that I don't even hear it anymore.

— Playground Dad (@playgrounddad) September 8, 2012
I have 5 wonderful blog sponsors (purchasers of ad space) who make me happy and help pay a babysitter so I can write without children hanging from my neck. Please help me show them some love by checking them out & Liking them on Facebook. Thanks! If you are interested in advertising here, ads start at $15/month (details here).
Forever 51 = Mary Anne's amusing adventures after 50.
Abby Has Issues (the Book) = 100% profits from the sale help animals in need.
Pocketful of Joules = Career girl gone mom. Writes about wild horse sex.
My Pretty Chic Boutique = An Etsy shop of stone & beaded jewelry that I covet.
Splendid Junk = Etsy shop of lovely vintage goods, including Back-to-School.
Okay, now I think that's everything. Back to your regularly-scheduled weekending…
Comment with Your Facebook Account
Comments