I know I'm not the only one who usually doesn't look in her kids' school bag until between 11pm Sunday night – 7am Monday morning, only to find that they had homework that involves glue & paint, need to bring in an Albino Dwarf turtle for Show & Tell, or I was supposed to bake the class a snack from scratch that starts with the letter "Z".
Which means I also can't be the only one who filled out the Back-to-School paperwork the day before school started. And realized there was a tiny note slipped in the folder with even more shit to buy.
I have been bragging since July that I already had the kids' new backpacks filled with new sneakers and new supplies from the list we got on the last day of school.  Then, a few weeks ago, I snuck to the store on a quiet weekday morning and got the kids some clothes, too.
I was all set. I had no more shopping to do. I WAS DONE, DAMMIT.
That is, until the day before school began.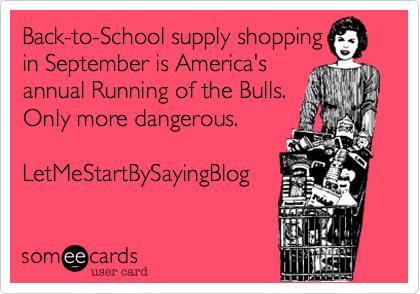 That day in Target was terrifying.  I swear, I almost got gored by a woman who needed a  1 ½" binder.  People were running and screaming.  It got ugly.
I got my stuff, came home, and rested in the dark with a cold compress on my head.
Once I recovered, I began thinking that though Back-to-School shopping is like the Running of the Bulls, the actual First Day of School can be like something much more dramatic and emotional.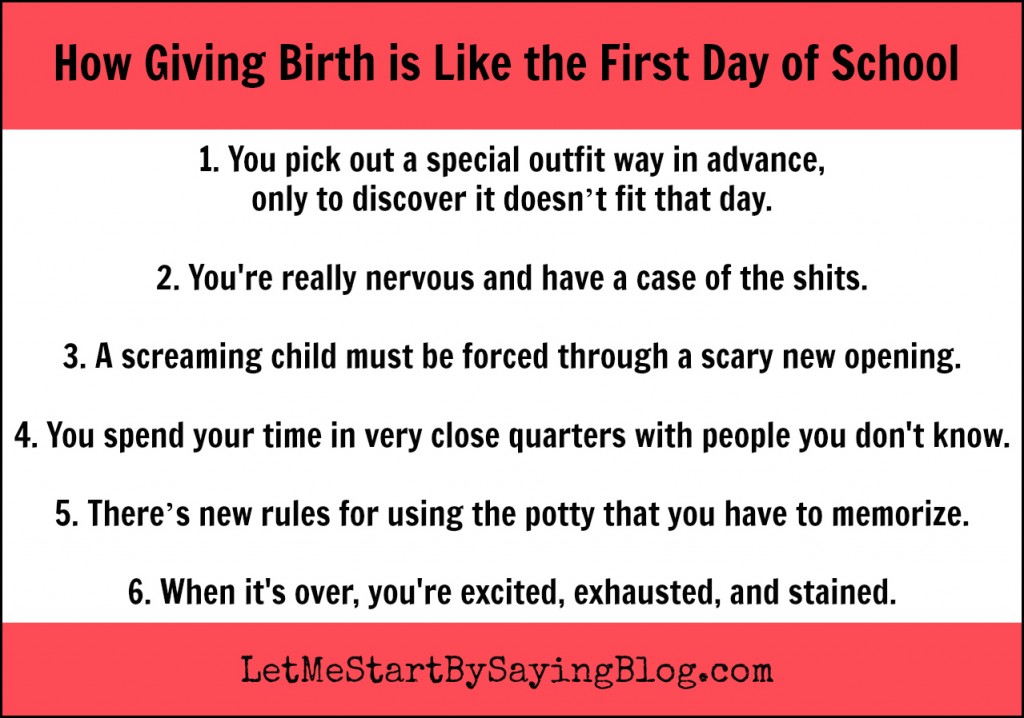 My kids did survive their first day of school (with a lots of item #2…literally), and I'm glad it's all over.
What's also almost over? My Back-to-School themed week.  But I have one more funny for you that was originally posted on InThePowderRoom:
We all know that being eco-conscious, doing nice things for the environment, is a good thing.
I make a reasonable effort, like separating my recycling each week, donating old fast-food joint toys rather than trashing them, and buying "green" cleaning products that my husband thinks smell like death.
I am starting to understand that the wastefulness of Back-to-School time is akin to hosting my own mini oil spill every September. Most of the crap we, as parents, buy for our kids is plastic, toxic, kills kittens, or contains enough paper to have used up all the trees in the southwest corner of a medium-sized rainforest.
Since I have all sorts of extra time on my hands these long summer days with no camp with which to occupy my needy children, I decided to do some research. The result is a Back-to-School shopping list that should make us all a little greener.
Back-to-School Must-Haves for Eco-Conscious Kids: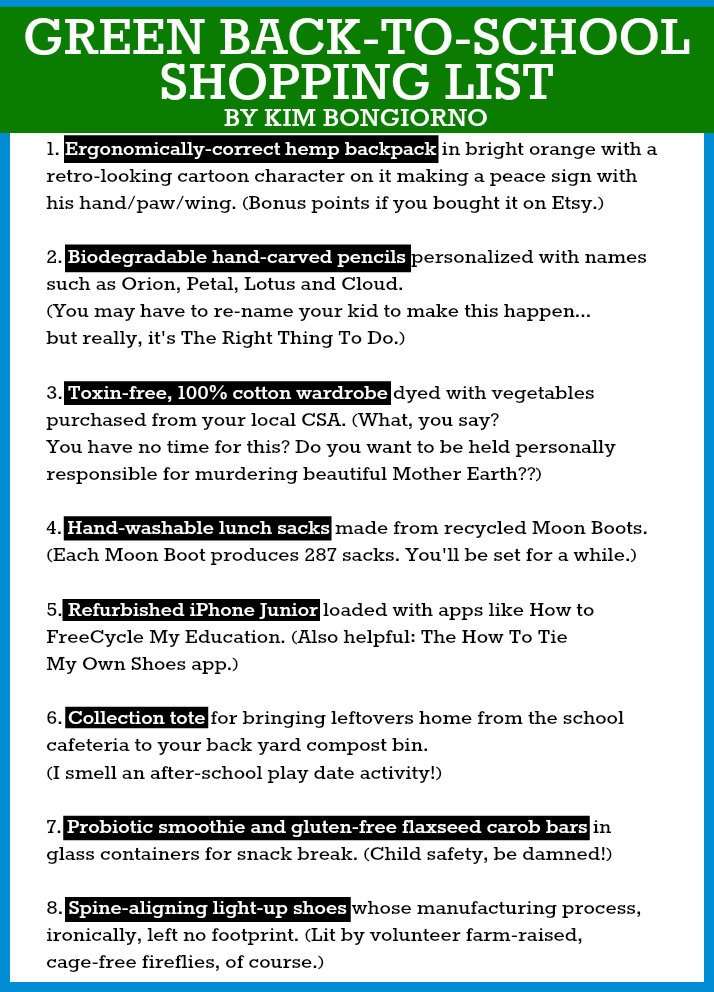 Sure, buying all this stuff might take up so much time and money that we all go immediately broke. Just try to think of moving from your 4-bedroom colonial to the back of your minivan as a wonderful step in the right direction for the environment, which is a great example to set for your newly eco-conscious children.
Happy shopping, everyone!

Comment with Your Facebook Account
Comments