…because you have other shizz to do.
Where I've been this week on the www.
All summed up so you can move on with your life.
~ ~ ~ ~ ~ ~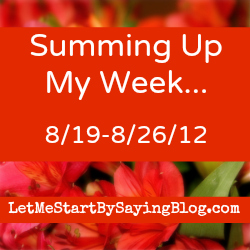 My big story of the week has to be how supportive you all were of my REAL MOMS Magazine cover mock-up, which (of course) has a photo of me in my bathrobe on it. You shared the photo itself on Facebook hundreds and hundreds of times, gaining me more readers & hilarious comments. Thanks you!
Welcome, new visitors!
I promise I don't always look as glamorous as I did on my magazine cover debut. No need to dress up when stopping by.
Many of you also helped me bring mad love to Bad Parenting Moments, who lost some followers after she posted that she teaches her kids tolerance. Really, you people are good stuff.
Do you want to be in a blog post? Then send me a picture of yourself as a kid from the 70s/80s/90s in a crazy get-up. Email it to LetMeStartBySaying.info@gmail.com or post it right onto my Facebook Page.
Need inspiration? Look at THIS.
Want to know what happened last time I asked for you all to send me stuff? Read THIS.
I was a top-click last week on FindingTheFunny...are you linking up your funny posts or at least reading along? You should be. Every Wednesday. I'll see you there.
My kids finished their summer intensive swimming lessons, so of course I (literally) shared some thoughts.
I've been writing for InThePowderRoom for 11 weeks now, all because of the wonderful and hilariously brilliant Leslie Marinelli of The Bearded Iris. Recently, she got a much-deserved job promotion which you gotta read about.  As for me, I shared a secret I've held for 20 years in my article there this week.  (For all my articles there, just click the Read Me button below.)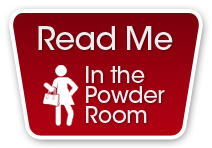 Stuff I Loved: THIS by Regular Guy (made me LOL hard…pun intended), THIS by People I Want to Punch in the Throat (even though people got nasty & I had to block some comments), THIS by Naptime Writing (why aren't you following her?!), THIS by Midget Man of Steel, THIS by Scary Mommy
Also: Fellow neck-migraine sufferer Robin from Robin's Chicks told me (and everyone else) about Technogel Pillows.  I am now obsessed. OBSESSED. It will be the only thing on my Christmas Wish List (no joke – it's expensive), because I have suffered from migraines since I was a kid. If you ever come across a sale or promotion of theirs, I BEG of you to tell me about it.
Speaking of my love, these are some of my favorite tweets:
Self magazine says dabs of body glitter make you look slimmer. So I'm going to roll around in that shit like its Shake 'n Bake.

— Wendi Aarons (@WendiAarons) August 24, 2012
I told my daughter I would bring her some water, but I am hiding in the kitchen eating all the candy she got from a pinata yesterday.

— Christie Tate (@TheOutlawMama) August 21, 2012
My blog is now available on the Amazon website for Kindle subscription. I will magically appear on your Kindle or phone's Kindle app without having to search the www, with no ads or decorative crap getting in the way of your reading. Fancy stuff.
I have 6 wonderful blog sponsors (purchasers of ad space) who make me happy and help pay a babysitter so I can write this summer without children hanging from my neck. Please help me show them some love by checking them out & Liking them on Facebook. Thanks! If you are interested in advertising here, ads start at $15/month (details here).
NinjaMom Blog = Smart, funny, why aren't you reading her? Writes for NickMom!
Forever 51 = Mary Anne's amusing adventures after 50.
Abby Has Issues (the Book) = 100% profits from the sale help animals in need.
Pocketful of Joules = Career girl gone mom. Writes about wild horse sex.
My Pretty Chic Boutique = An Etsy shop of stone & beaded jewelry that I covet.
Splendid Junk = Etsy shop of lovely vintage goods, including Back-to-School.
Okay, now I think that's everything. Back to your regularly-scheduled weekending…
Comment with Your Facebook Account
Comments