Every Friday can you find me over at InThePowderRoom.com encouraging naughty laughs & nods of recognition about saggy boobs, bitchy dressing room mirrors, asshole kids, my uterus, dodging other peoples' DNA, and the like. 
I encourage conversation in the Comments section that includes bad language, honest opinions, and frank talk about what you want what you really really want. 
But this week, I've gone a little soft.
I met a girl when she transferred to my high school, and we knew upon seeing each other that we had something special. She was something very special to me.
Which makes the fact that I've kept a secret from her for 20 years kind of…wrong. 
 CLICK HERE to read a story about how a loss she experienced when we were young brought me comfort. Something that I needed more than I could ever say. Yes, I'd do anything for her. It's not even a choice – it's automatic.  But I couldn't tell her how the sad thing that happened for her on that day did something good for me. 
It may not make you laugh, but I hope it makes you think.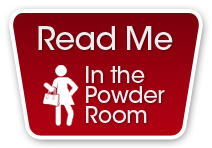 I hope to see you over there & promise to reply to every comment. As always.
Comment with Your Facebook Account
Comments