I was the kid who got called home by her parents via cow bell.
I can't be the only one who thinks that we coddle our children these days.
(Yes, this makes me sound old. NOW SHUT UP AND GET OFF MY LAWN.)
I didn't need a DayPlanner until I was in high school, and that was only because I was into  sports, did extracurricular activities, and held down a job.
Yesterday at Starbucks I think I saw two Kindergarteners comparing Google Calendars on their iPhones in order to schedule a chalk & bubbles playdate.  
Those of us in our 30s, 40s & beyond all know what it's like to figure stuff to do on our own. We grew up with summertime 'schedules' that consisted of Wake up. Do stuff. Eat a few times. Go to bed. Start over again tomorrow.
Personally, I loved watching TV.  Sure, we only had a small black & white TV and about five channels until I was a teenager. But it was a great way to pass the time. It didn't melt my brain, as so many people claim today. I'm still pretty darn creative.
But that wasn't the only thing I did. I spent loads of time outdoors.  I spent loads of time playing with my toys.  I spent loads of time figuring out what to do with my time with my youngest brother.  Most of these summertime memories do not involve a parent standing over me or a planned activity. And (Gasp!) I survived to share the stories.   
Not only did I survive, I think I became a resourceful, independent person because I was left to my own devices, had to make my own decisions. Which isn't a bad thing.
CLICK HERE to read my post at InThePowderRoom today & see what my summertime situation is like this year as a mom. Let me know if you can relate. Are you one of the Scheduled People?  Should I apologize to my kids for not being one?
I'd love to hear your thoughts.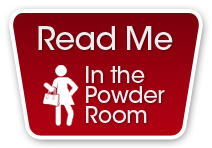 I hope to see you over there & promise to reply to every comment. As always.
And now a word from my fabulous sponsor, who will make you laugh. I promise:
Comment with Your Facebook Account
Comments