I'm an easy flier.
I pack, I go to the airport, I tolerate whatever snafus, talkative seat mates and weather delays get thrown my way with a zen-like patience rarely displayed in my every day life.
Heck, I even arrived at Chicago's O'Hare Airport last night at 6pm with Husband & kids, only to have our flight delayed so many times and for so long that we didn't get home in New Jersey until 3:30am this morning.  Yet, I just dealt with it by eating lots of caramel corn and handing the iPads over to the kids.
But that doesn't mean there are things that I witness there that don't befuddle me.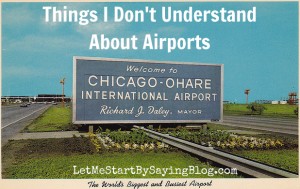 1. Small bathrooms.
They do realize these only get used in 75-people-at-a-time increments, right?
2. Women dressed like pole dancers.
Platform stilettos and a tissue-thin crop top? Don't you plan on bloating to manatee proportions once hitting 20,000 feet, like I do?
3. Men in skinny jeans.
Don't those things need to breathe and stretch at some point during your flight?
4. An abundance of garlic and/or onions in every "To Go" meal offering.
Have these eating establishments no mercy on those who travel in confined spaces next to people with mouths & colons?
5. CNN playing in the gate waiting areas.
Because sitting through a 5-hour delay with crying babies, impatient kids, and farting businessmen isn't bad enough, we need to be reminded every 7 minutes about how terrible the economy is doing.
6. Totally uncomfortable seats in the waiting areas.
If my kids could get comfortable enough to nap right now, that alone would decrease the volume of this terminal about 100 decibels because I'd be able to turn off the dueling episodes of SpongeBob they are watching on separate iPads.
7. Adults who travel frequently and are old enough to understand how weather, flight control, and plane mechanics can cause plane delays being less able to handle said flight delays than a couple of really, really REALLY tired school-aged kids.
Sir, you are pouting and stomping your foot because you have to sit here by yourself reading the newspaper a little longer than originally planned. Even my melodramatic 5yo is complaining with less flourish than you: Get a GRIP, Dude.
8. Letting the guy who just learned English yesterday make all the really important overhead announcements.
………………………………………..whudhejustsay??
Comment with Your Facebook Account
Comments