Today I'm In The Powder Room talking about The Mommy Wars.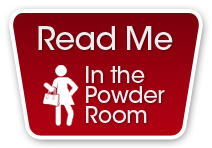 I pretty much have steered clear of talking about the whole "Mommy Wars" topic around here.  Mostly because I feel stupid saying the word "Mommy" to anyone under four feet tall.  But also because people tend to lose their shizzle when someone gives an opinion about it that conflicts with theirs.
Well.  I was asked to give my opinion, and some people may not like it.  Whether you do or you don't, I ask you to please come on by In The Powder Room as I finish up a week of posts all about The Mommy Wars.  Click the button above (or HERE) to read my take.
I'd love for you to let me know your thoughts in the comments over there, even if you think I'm an asshat for my own.  I promise to reply to each one.
(Yep…this might get interesting…)
If you're new to Let Me Start By Saying, Welcome!
Come on by my Favorite Posts page for laughs, lists & more, or visit me on Facebook.
This is going to be a fun summer around here. So stick around.
I'll see you In The Powder Room…
Comment with Your Facebook Account
Comments