…because you have other shizz to do.
Where I've been this week on the www.
All summed up so you can move on with your life.
~ ~ ~ ~ ~ ~
Welcome all new people!  Lots of you have been coming by since Jen at People I Want to Punch in the Throat put me on her list of 10 Funny (Mom) Blogs Your Should Read Today. I swear I in no way bribed her to make this list.  It was an awesome surprise, and I plan to hunt her down at BlogHer'12 next month and give her a big Albino Polar Bear hug.   You should go read her right now. And that list. I am humbled to be named among the hilarious.
You are all perverts & I love it. Around midnight on Friday night I shared my review of Magic Mike & the lessons I learned by watching it. You shared it all over the place before I even fell asleep.  Those of you who haven't seen this soon-to-be-nominated-for-Oscars-in-hotness film need to go RIGHT NOW, then report back to tell me whether my review was accurate. For journalistic purposes, of course.
Thank you to everyone who shared my post about 11 Sexy Sounds That Totally Aren't Anymore.  I got a lot of great comments and new readers from your passing it around, which I so appreciate.
Because of all this blog love you people have been giving me, I now have over 4,000 Facebook, which made me go Holy Shit. This doesn't mean my kids or husband listen to what I say, but I at least have you. which makes me feel better.
Speaking of Facebook, read this quick guide I put on my page for how to make sure you get all the updates of your favorite Facebook pages in your Timeline.
Got myself a new babysitter, who it seems many of you already use.
I proved I'm not just on Facebook.
My article about making friends as a mom in a new town with 2 little kids was on InThePowderRoom.  Click the button below to read it & share your stories about making friends as a parent, or click here to read all 3 of the articles I've written for them so far: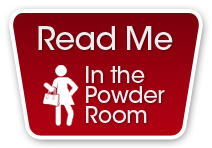 Thank You to all who entered the Dastardly 'Do Bed Head Contest I'm judging with a gang of misfits.  Winner will be announced on Monday & I'm sure more fun is to come. Go Like her on Facebook & follow along.
Some posts my others I loved this week were this by HuffPost Parents, this by MommyShorts, this by Mom-101.
On a  serious note, I made a Brite about something we all should know. A hard topic (it was awful to research), but an important one:
If you haven't signed up with Britely.com yet, now is the time. They streamlined the process of making free online photo ebooks you can share with the world, or just with your friends/family, using your own photos, ones on Facebook, or public images from the web. Head on over & if you make something fun, let me know – you can even post it to my Facebook page if it'll make me laugh.
I have 2 lovely sponsors who make me happy and help pay a babysitter so I can write this summer without children hanging from my neck.  Please help me show them some love by checking them out, Liking them on Facebook, looking around their stores. Thanks!
If you are interested in advertising here, ads start at $15/month (details here). Now's a great time, since I have some good things going on here during July…
My Pretty Chic Boutique = An Etsy shop of stone & beaded jewelry that I covet.
Splendid Junk = Etsy shop of lovely vintage goods for home & garden, gifts & jewelry.
Okay, now I think that's everything.
Back to your regularly-scheduled weekending…
~ ~ ~ ~ ~ ~ ~ ~ ~ ~ ~ ~
Welcome to Let Me Start By Saying… Thanks for visiting!


1 Click Below = 1 Vote = Happy Kim

Comment with Your Facebook Account
Comments