When couples move in together, it's like Wild Animal Kingdom in their homes for the first few years: Clothes are barely worn, someone's always being either chased or mounted, copulation sounds bounce of walls of every room at regular intervals.
As the years pass and the couple becomes a family, the household activities change.
But the sounds around a home don't.
Sexy Sounds That Totally Aren't What They Used to Be
1. Repeated Creaking of a Bed = Kid jumping on the bed.
2. High-pitched Oh! Oh! Oh! = The last few moments of a coveted eBay item being watched in the hopes of a winning bid.
3. Slapping of Thighs = Swimsuit season has arrived, so the dusty ThighMaster is being put to use.
4. Heavy Breathing = Recovery from walking up a flight of stairs.
5. Loud, Deep, Sigh = Exasperation over a discovered pile of dirty laundry when she thought she had finished all of it that morning.
6. Someone Shouting F*ck me! = Just stepped in cat puke while barefoot.
7. Mechanical Vibrations in the Shower Followed By Screams = The furious facial rubbing of a Clarisonic Microdermabrasion tool in an attempt to shrink wrinkles splashes stinging scrubbing beads in her eye.
8. Deep grunting = Someone went from sitting to standing.
9. Sweet-Talking Mumbles Peppered with Giggling = There's a new kitten in the house being petted (<– this is not a euphemism).
10. Sudden Gasp = The inhalation of sinus medication to control Post Nasal Drip.
11. Actual Rowdy Sex Sounds = The TV was left on, tuned to HBO.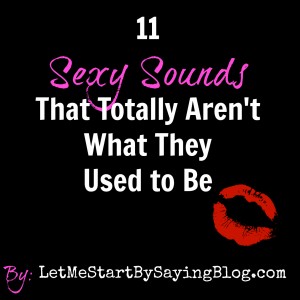 Comment with Your Facebook Account
Comments