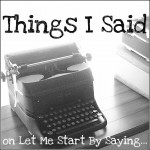 ~ ~ ~
My kids are weird.
That is all.
<– That is a button you can click for past Things I Said
~ ~ ~ ~ ~ ~ ~ ~ ~ ~ ~
How did you not notice you were wearing 2 pairs of underwear all day?
We're not talking about vulvas or penises at the breakfast table.  Lemme finish my coffee first.
Just don't tell Daddy what's been in this mixing bowl, okay?
You: watch where you're peeing. You: don't watch him peeing.
If you don't mind looking like a crazy tutu-wearing person at school, I don't mind it either. But no dancing. You hear me?
Get your nose out of my tushie.
I don't think the issue is sizing. I think the issue is that most balloons don't actually wear diapers, honey. Maybe we can diaper something else to be your baby today?
FINE, yes, they are adorable. My adorable…grandbabies.
We need to leave Target right now, before I leave YOU in the Lost & Found. Yes, both of you.
Get your vulva off my throw pillow.
Good Morning, uh….what…ever you…are?
What are some crazy things you had to say to the kids lately?
Add your own crazy quotes here for now…
And during the week, if you have your own "Things I Said", Tweet it to me on  Twitter at @LetMeStart with the hashtag #ThingsISaid.  I'll share it with my tweeps, too.
Comment with Your Facebook Account
Comments