This past weekend, Husband and I took off for West Palm Beach, Florida for a Grown-Up Weekend of "reconnecting".  Just me and him. Together. Alone. You know what that means, right?
He golfed, I read & spa-ed, we met for dinner.
So romantic!
Here are some of the highlights:
~ I confirmed that I am unable to go through a single meal without drunkenly shouting "VULVA!" in public. I think Husband finds this charming.  (I'm not going to ask him to confirm this, so just take my word on it.)
~ Pretty much every hotel room I've ever stayed in has genitalia worked into their "art". Case in point:
~ I read The Bloggess' Let's Pretend This Never Happened in a day. I laughed out loud, snorting and weeping on the airplane (had to take my glasses off to wipe my face about 20x), and shaking. Husband changed seats, pretending he didn't know me after the 47th hushed "YOU LOOK INSANE" did nothing to stop my behavior.
I won't give away any spoilers now or when I put my book review here, but there were parts of the book in there that I want to read again, because the laugh-crying was like an ab workout.  Reading Jenny Lawson tones abdominal muscles. And people say it's impossible to exercise on an airplane. Amateurs.
Also: read this if you've already read the book. It's like an extra chapter of awesome. FOR FREE.
~ I also read White Girl Problems & Such a Pretty Fat (both funny), and started Unbroken (now I'll never be able to complain about hangnails again). All will be reviewed here within the week.
~ Our hotel had hands-down the ugliest rug in the galaxy. I have great sea legs – plus, we weren't even on a ship – yet I got seasick just walking down the hall to our room.
~ SpongeBob & Muno had a love child. That Love Child liked to hang out in our bathroom by the sink.  He was so cute, I rubbed my hands all over him.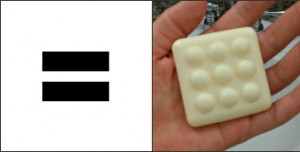 ~ I drink about 2 gallons of water a day, and at $6 a bottle on the resort, I decided to walk the .83 mile to Walgreens to buy my own on the cheap.   This trip ended up taking me 3 hours (I got lost, because it was in a straight line from my hotel yet for some unknown reason I kept turning right), covering my feet in blisters, one of which burst open and got infected, plus carrying a 24-pack of water on one shoulder (Read: 24 lbs) for almost a mile and the rest of my groceries on the other did nothing to help the tension in my shoulders.
SURVEY SAYS: Kim is an idiot.
I say: Taxis & Common Sense are for sissies. 
~ Rain had no chance of spoiling our trip. It did not stop Husband from golfing. It did not stop me from napping. Everyone wins when they are muthuhtruckin' determined to win.
~ I thought I was the only person who could manage to tip over a perfectly steady table and spill hot coffee all over myself in the middle of the lobby cafe. Then Husband came over and did the exact same thing to me 5 minutes later. So I was wrong. And kind of burnt. And in wet, coffee-scented pants.
~ You know you were desperate to get away when even a 3am migraine on your vacation doesn't rattle you. You're just glad you don't have anyone around to take care of while you recover. This may mean I was a bit overdue to some time off.  Thankful for a migraine?  Maybe I am – as Husband hinted shouted – insane?
~ I confirmed that There is A God. How?  I ate Funnel Cake Fries dipped in warm caramel for lunch. The fact that these exist should clear everything up for those non-believers.
~ When I went through security, a large slightly frightening woman pulled me aside, told me to spread my legs because she needed to feel me up. Not exactly my kind of foreplay, but, hey, I'm willing to try new things. Then she pointed out that I "must have on big underwear".  Gee, thanks for announcing to the entire airport that I wear Granny Panties while flying. You are so not getting to Second Base with me now, Security Lady.
~ The airports in Florida are a lot different than the ones in New York & New Jersey.  How?  They allow in actual sunlight and contain more wheelchairs than people. But since they let New Yorkers/New Jersians into the Florida airports, there's still plenty of yelling and unmedicated loonies, one of which actually hit me in the head with her tennis racket on the plane. Twice.  Ahh…just like home.
~ Nothing calms the nerves like taking off for a 3 hour flight during a rainstorm. Which means I gladly offered Nervous Nelly Husband's seat to the guy who wanted to sit with his wife in our row, sending Husband 2 rows away. Sure, I had to deal with the Cuddly Cute International Newlyweds With Halitosis, but at least I didn't have to get sidelong looks from Husband as he said his final GoodByes to me each time we hit turbulence.
~ The more annoying your kids are, the more likely you will come home to discover that your mom & MIL to have moved every single item in your home; have fed the kids nothing but McDonald's and Doritos for 4 days; and that you now are the proud owner of The House With the Tipsy Pink Plastic Flamingo in the Front Yard.
~ The morning after we arrived home, my mom & MIL bolted like Hell left in a flurry of Thank Yous and hugs. I dropped the kids at school, then Husband & I did what any couple does when they get the house all to themselves: Agreed not to speak.
He hid in the basement with ESPN.
I tucked myself into the couch with warm toasted banana bread my mom made for me, topped with melty Cookie Butter.
Now that I'm back home, and totally still unpacked, I feel good. We needed that trip. We needed some alone time.  We needed to get away from everybody.
I feel refreshed.
Which is good, because I have lots of stuff going on right now.  Work, writing, things I'll talk about when it's time to talk about them, Life, maybe even laundry at some point, if I can find where the Hell my MIL hid all my clothes while we were away…
Oh! A few things I do want to put out there:
1. Congratulations to Kimberly, who won the My Life & Kids BlogFrog Community Giveaway!  If you haven't joined yet, it's free and friendly and I'm a leader over there (shut up stop laughing I can lead…I think…).
2. I've been making all sorts of new Brites, including some with my own personal recipes. It's making it so easy to share my recipes!  I created a Pinterest Board for my Recipe Brites, in case you're over there. In a week, my cupcake & frosting one has been read/shared over 3,000x. Yes, it is THAT deliciously easy.
3. Thanks to everyone who came by Circle of Moms to read my Featured Post about that note I found under my almost-7yo's bed. I love seeing your support!
Okay, now time for another slice of Mom's banana bread.
Comment with Your Facebook Account
Comments