…but I Kept Our Imaginary Daughter's Name
At 10 years old, planning my marriage to either Kirk Cameron or Ralph Macchio, I wrote a list of our future children's names inside the front cover of my journal.
Fast-forward 20 years, I'm married to someone WAY hotter than either of those guys, pregnant with our second kid.
The top name from my list, the one I want to use, is a Top 5 Name of 2007.
Ha ha ha!  Oh…poop.
I had a love for this name for two decades.
I imagined myself married to a myriad of television and movie stars since that day in 1986, calling our daughter's name to come eat the dinner our personal chef just set out for us in the elegant-but-not-stuffy dining room.
I was attached to this name.
Everyone I told said Don't Do It.
Don't be one of the bagillion moms calling this name at the park.
Don't allow her to be one of many, many girls in her class with this name throughout school, forcing her to use her last initial or come up with some nickname.
I didn't listen.
I pulled that name drawn in a loopy hand off 10-Year-Old-Kim's Future Baby Girl Name List and gave it to my daughter for the rest of her life.
It has been five years, and I have yet to regret it.
Sure, it's a totally popular name that causes me double-takes on the school blacktop.
However, it suits her.  It sounds lovely with her last name, and her brother even gave her an adorable nickname that works.
So in five years, when she's scribbling some Nickelodeon star's name in her own journal next to a list of Future Baby Names, I'll tell her to hold onto that list nice and tight.
Because it just might come in handy one day.
Like this? Subscribe today.
Find me on Facebook & Twitter.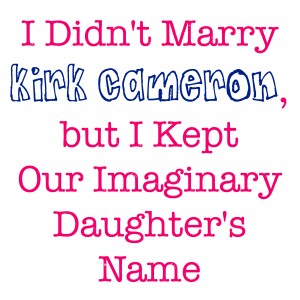 Originally posted on Circle of Moms.
You voted me onto the 2012 list of Top 25 Funny Moms on Circle of Moms.
Thanks, friends!
Comment with Your Facebook Account
Comments