It was a beautiful, sunny spring day.
The birds were chirping.
We had no place to be.
I was sipping coffee, watching my kids laugh and play in the driveway.
Which made it the perfect opportunity to call my first grader a jerk.
Let me back up.
Bullying makes my blood boil.
A year ago my son—then 5 years old—was being spit on at school. It got my wheels turning about how I really need to make an impression on my kids about how they deserve to be treated and how they need to treat others.
Then a few months ago, we had another situation which at first looked like bullying, but turned out to be an accident and a well-intentioned misunderstanding (not that his sister didn't want to exact revenge, anyway).
I have since decided that instead of being all Hearts-and-Flowers and Gentle Words, I'm gonna be Real.
True Story: When my daughter was two months old, someone's two-year-old son started hitting and kicking her as she lay in her bouncy seat, making her scream and cry. The mother (who was within reach of them both) sweetly called out, "Gentle hands…" as I dashed across the room, ripped that kid off my newborn, and pulled her up to safety. The kid wasn't reprimanded, even though he hurt someone 1/3 his size deliberately. That phrase "Gentle hands" to this day makes me cringe.
My kids are old enough to understand Real. They're almost 5 & 7 years old.
Now: back to the driveway.
My daughter was riding around, picking up gum balls that fell off the oak trees, and putting them in the back of her Radio Flyer.
My son was following her around, slamming into her not enough to hurt her, but enough to bother her and scare her because she figured that one of these times he would hurt her.
She asked him to stop. She said, "No." She asked me to intervene. I told him to stop. I told him, "No."
He ignored us both and did it again.
I put on the breaks. I did not use my friendly voice.
Me: Do you know what the word "jerk" means?
Him: Uhhh….when somebody's rude and had bad manners?
Me: It's more than that. A jerk is someone who knows he is disrespecting someone, knows he is being rude, knows he is being mean, and keeps doing it anyway. Do you understand that?
Him: Uh-huh.
Me: Acting Like A Jerk is a choice. Acting Like A Jerk is a decision. Do you think it is a good decision?
Him: Nooooo……
Me: What you were just doing was Acting Like A Jerk. You chose to be mean over and over again to your sister. Do you think that's nice? A good decision?
Him: Noooo…..
Me: Do you think your sister feels good about you being mean to her on purpose?
Him: No.
Me: Do you like it when people are mean to you?
Him: No.
Me: Then don't Act Like A Jerk.
Him: Okay. (Turns to his sister) I'm sorry.
I think the word "bully" should be something all kids are familiar with, but not a label that gets bandied about too easily.
I think you can be a kid and make a mistake that hurts someone, but learn from it. Show you're sorry and you won't do it again.
I think we need to teach our kids that their behavior is their decision.
If my kid is Acting Like A Jerk, I'm gonna call him (or her) on it. I'm gonna point it out to him right then and there, and make him stop to think about how the person he's being jerky to feels. Think about how he felt the times he was spit on, knocked down, hit in the face.
He hasn't Acted Like A Jerk Since.
I hope he thinks about that conversation when he has the choice to Act Like A Jerk when I'm not around.  Or when he sees other kids doing it on the playground, in class, at recess.
And I hope he makes the decision to step in on someone's behalf that day, just like I did on behalf of his sister.
I hope.
Like this? Subscribe today.
Find me on Facebook & Twitter.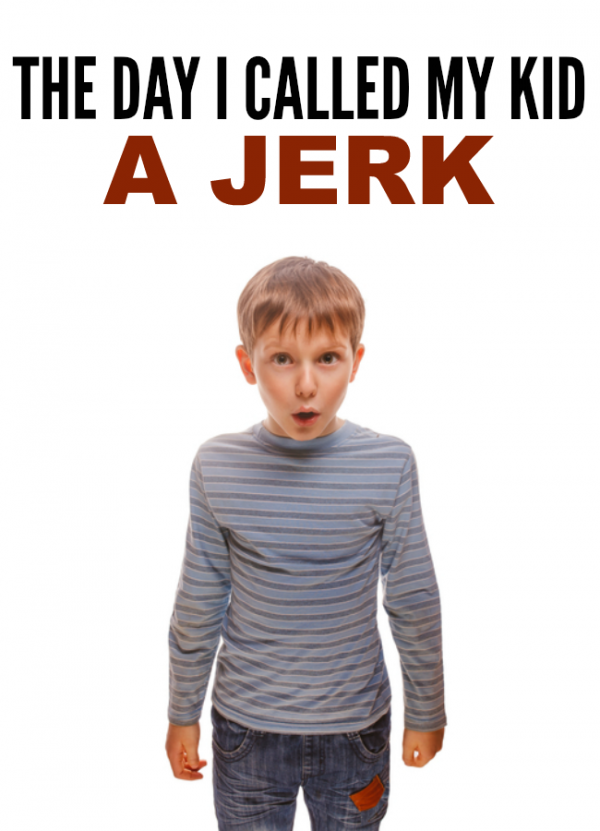 Comment with Your Facebook Account
Comments