I am pretty much a professional basketball player dressed as a SAHM. My job is to play with a bunch of immature people all the time. We get sweaty, there's yelling, fancy sneakers, high-fives, lots of running, sometimes there's even cursing or hitting, Time Outs get called on a regular basis.
The main difference is that I just don't get paid millions to do my job.
(And we don't have a uniform.  Which would be kind of cool.  But, I digress…)
Since I don't get paid, most Home Game Days I let the kids watch TV.
Sure, we also play board games, do dress-up, build forts, have imaginary play time, play sports in the yard, read, draw, do crafts, and so on.
But sometimes I need to step away, be left alone for a 30-90 minute stretch so I can do housework or write or not go clinically insane from all their constant demands for Snack.
TV has its Good Points and its Bad Points.
The Good Points include:
Leaving me alone.
Bonding with each other over favorite shows like I did with my brother as a kid.
Leaving me alone.
Learning fun songs & dances.
Leaving me alone.
Learning important Life Lessons or skills from cartoony friends.
I have learned to accept the Bad because the Good is so good.
Here are some of my favorite Goods, and the Bads that I've learned to live with (for now):
GOOD: Don't bite your friends.  Everyone has a talent.
BAD: Food is so emotionally sensitive that it will get depressed and openly weep if you don't invite it to the party in your tummy.  Bumpy dancing dildos are nothing to fear.
GOOD: Spanish phrases like "Buenas Noches". Map-reading skills for assisting Mommy when the car's GPS is on the fritz.
BAD: How to relentlessly scream at the television like a drunken dude watching a Final Four tournament when you're only four years old.  Befriending monkeys.
GOOD: Creating silly dances is fun and exercise. Being happy all the time is possible.
BAD: Kickety kickball as an indoor sport near the flatscreen TV and large windows.
GOOD: Teamwork.  It works.
BAD: Teamwork cannot begin without a couple rally cries of "WHAT'S GONNA WORK?!" on the top of your lungs, even when mere inches from your teammates.
GOOD: Imagination is awesome.
BAD: Every. Single. Thing. You ever do should be accompanied by a song and dance routine with your friends.  Is fun possible if you don't have a back yard?
GOOD: Learn to make the best out of a tricky situation.
BAD: The misinformation that being "Just like a rock star" includes wearing a silver faux leather jacket with a star on it, playing an instrument that looks like giant blue testicles, and hopping around really, really enthusiastically.
GOOD: Big Kids and Little Kids can learn to play together.
BAD: It is acceptable to openly joke around about Daddy being fat & stupid.  Even to his face.
GOOD: Real facts about the dinosaurs that roamed Earth millions of years ago.
BAD: That it's not weird that a kid in your class pretends dinosaurs are not only still around, but they hang out at the school playground. (Cue the antipsychotic drugs)
GOOD: Taking turns is the fair way to play.  Hitting isn't cool.
BAD: Inaccurate representation of the law of physics in how it applies to head size/body size ratio. (Waiting for episode when someone's massive head crushes his pin-like body…possibly an After School Special of some sort?)
So between the Free Babysitting the TV gives me, and the perks like reminding the kids not to bite one another, I think I'll keep up our little NickJr marathons for now.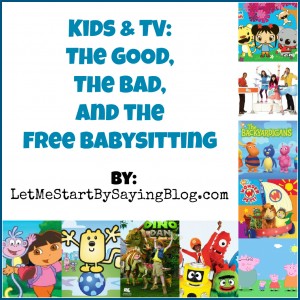 Like this? See also: Dude. This Ain't The People's Court