Guitars riff.  Snares spit. Her hair whips.
Flashes of bright playful eyes peek between inky kohl smears.
Chapsticked lips relax into smiles in between beer sips, shout along with the lyrics.
She puts her bottle on the bar.  Her thin pale arms rise up from a tight tank the color of night, and she dances.
She jumps, nods, shakes her head until memories of pain leak from her ears, fall onto the floor, and get stomped by the Doc Martins, the black suede sneakers, the fast feet of others forgetting, moving forward, just like her, as the beat goes on.
~ ~ ~ ~ ~ ~ ~ ~ ~ ~ ~ ~ ~ ~ ~ ~
This post was in response to the My Blog Can Beat Up Your Blog: 100 Word Song Fiction Prompt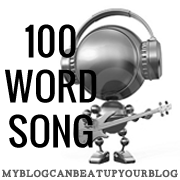 Listen to Social Distortion's Sick Girl (lyrics here) and write a 100-word fiction piece inspired by it.
Click HERE to read the prompt, add your own response to it via "Mister Linky" (below the video) or read all the responses in one place.
I know for a fact that sick girls, ones in black leather and dark eye makeup, who have dealt with pain, can be happy, can know joy.
Feedback, concrit, comments, questions always welcome. I respond to all.
~ ~ ~ ~ ~ ~ ~ ~ ~ ~ ~ ~
If you are new to Let Me Start By Saying…welcome!  Read some more short fiction of mine,  About Kim, or some funny Favorites.  Thanks for visiting!
1 Click Below = 1 Vote = Happy Kim