Not quite as chatty a week, but still.  Let's make it easier on both of us to remember what happened, shall we?
~ ~ ~ ~ ~ ~
I crawled inside the head of my missing cat.  Grab the tissues for this one.
I talked about how my kids' upcoming 5th & 7th birthdays are a milestone for me.
I discussed the many thought-provoking reasons you should see John Carter this weekend.  Spoiler Alert: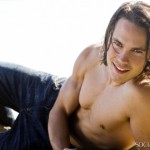 I announced my new writing gig, creating super-short humor eBooks on Blinkbooks.com.  You can see all my work there HERE.
It's a close race, but your votes have been keeping me up there in the Circle of Moms Top 25 Funny Moms nominations. Thank you!  Voting ends March 21st, you can vote for as many nominees as you'd like every 24 hours.  Anyone, anywhere can vote without any sort of log-in or sign-up.  I love that fact. And I love that you all have been supporting me.  Cupcakes, for everyone!

The last 2 Nana Chronicles, International Addition were added to Show & Tell.  Spoiler: Guess who's coming to dinner this summer?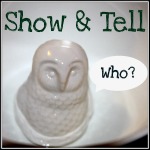 On Finding the Funny #7, my re-write of Cee-Lo Green's "F*** You" was announced as the top-click of the previous week. The post is pinned on the Finding the Funny Pinterest board, where you'll find all sorts of hilarious goodies.  Then I shared my thong post.
Had a completely inappropriate observation about a member of the Fresh Beat Band.
Fell in love with Stark. Raving. Mad. Mommy.'s sensible parenting advice.
Accidentally discovered a new housekeeping method.
Skipped going to the gym to catch up on my writing prompt stuff. Like a fictional 100 word story about a woman's revelation for @100WordSong, and a 33-word story in need of an exclamation point for Trifecta Writing Challenge, which all parents can relate to.
Shared what may be my Best Post Ever with Lightning and the Lightning Bug's  Dare to Share link-up.  (You can share, too!  Click over and jump in)  If you disagree with my selection?  I'd love to hear which you think it should be.
I think that's everything.
Now back to your regularly-scheduled weekending.
~ ~ ~ ~ ~ ~ ~ ~ ~ ~ ~ ~
Welcome to Let Me Start By Saying… Thanks for visiting!
Comment with Your Facebook Account
Comments