I'm so done having kids that my barely-working ovaries wrapped their meager belongings in handkerchiefs and hung them on sticks ages ago, waiting for the first opportunity to skip town.  
If only my uterus would remove the padlock and my cervix could stop blocking things with the electronic invisible doggie fence it somehow got installed up in my Undercarriage around the time it witnessed me spending my days cleaning logs of shit off my dining room floor dropped by the kid who refused to potty train while I spent my nights waking up 17x with the other kid who must have hated me that year.  
I think that was 2009?  Anyway.
Since the day my daughter sprinted down my birth canal after a horrific pregnancy, I have been waiting for my 2 kids – whom I delivered less than 2 years apart – to turn 5 & 7 years old.
Five and Seven. Five and Seven. Five and Seven.
It was my mantra.  It kept me from running away calm when things got farking insane tough.
I saw 5 & 7 as a time of Freedom.
No more nursing, bottles, baby food.
No more diapers or massive middle-of-the-night craps smooshed into Pull-Ups.
No more enormous baby car seats only an adult can buckle/unbuckle after reading a 42-page User Guide and seeing a physical therapist for hand-strengthening exercises.
Able to play in the basement on their own without swallowing, well, every dangerous thing down there.
Able to tell me what's wrong when they cry, especially if it was being punched in the eye by their sibling because she scratched his favorite Wii game.
Able to play on most of all the slick climby stuff at the playground without giving me a heart attack.
Well paint me blue and slap a kilt on my hairy legs: My babies turn 5 & 7 soon!
My kids are just about old enough for me to ignore them, feed them crap, and leave them to wipe their own asses most of the time.
WOO HOO!
I'm seeing them love school, become really cool little Human Beings, make genuine friends, and become more independent every day.
It brings a frickin' tear of joy to my eye, lemme tell ya.
I'm so excited that The 5 & 7 Time Is Near, that I almost don't even mind that Miss A is making yet another…errr….rather complicated birthday party theme request.
Last year I begged and pleaded and got Husband into the mix, but nothing changed her mind from needing A Max & Ruby Blue & Purple Valentine's Day Birthday Party. 
I did the best I could.
Mr T didn't ask for any complicated theme (he's a boy.  He chose Star Wars. Duh.).  But his party ended up costing us about $3 million dollars. Ouch.  Didn't see that coming.
This year, my Little Darlings have stepped it up a notch.
Miss A has decided on her theme.  This weekend I plan to pop on over to Party City to pick up the Underwater Ice Cream Sundae Rainbow Dalmatian Spongebob Rainbow Birthday Party decorations, which I can only assume look like this: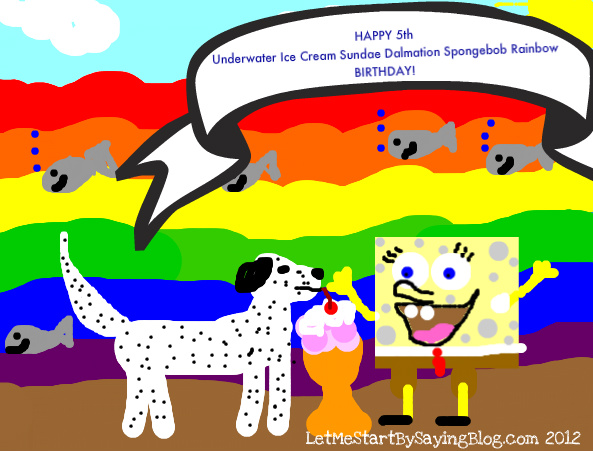 Both easy-to-find and classy, right?  AM I RIGHT?!?!
And Mr T seems to have found a place he "Neeeeeeeeeeeeeds" to have his party.  The only place in the state that is more expensive than the place we had it last year, and has scary things in there that will haunt his sister's dreams for the next 3-12 years.
Hooray! (<– sarcasm)
So I may end up spending the next 6 weeks on Pinterest, at craft stores and begging my clever friends for advice while selling my blood and wedding rings to afford to make these happen…
But at least they're finally – FINALLY!!! – turning 5 & 7, and I am beginning to feel the sweet, rich taste of Freedom on the tip of my tongue.
Or is that neon blue frosting? 
Meh.  Either way?  It's delicious.