Yet again, I spread myself out this week.  (In a good way)
So here's a snapshot of where I was, saving you time and clicks:
~ ~ ~ ~ ~ ~
I noticed that I have been doing memoir & fictional writing prompt response posts for a year now.  It has been a fun ride, and with everyone's feedback, advice and concrit I can see that I have been improving over the past 12 months. So thank you, really, all of you who take a moment to read these things.  Especially if you only came here for the funny stuff, but stayed for the writing.  You're helping me become a better writer.  Really.
I made ridiculously deliciously awesome Mardi Gras Cupcakes w/Cinnamon King Cake Frosting.  Recipe pinned on Pinterest HERE.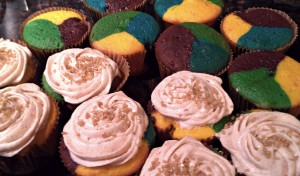 Hand-wrote a letter to my Grandfather, someone I never met, for the Lightning & the Lightning-Bug writing prompt. (Handwriting experts: do not give away my secrets, please.)
I finally had tea with my mom, which I had been waiting to do for weeks now.
Was awarded 3rd Place for my Snow White in 33 Words piece in last week's 33-word Trifecta Trifextra Challenge.  (Thanks, friends!)
Answered 10 questions about myself, my writing & shared a photo of myself, as requested by Trifecta Writing Challenge.
I went to Chuck E Cheese, and wish there had been a way to take a picture of my hand stamp.
Shared a fiction piece about a college professor being made a fool, for the Trifecta Writing Challenge Prompt.
For the 2nd week in a row, I was the top-clicked post on Finding the Funny.  So I linked up at Finding the Funny #5 with an old favorite, Why Parenting is Like Clubbing in NYC.
Dusted off my Show & Tell series with a new Nana Chronicles, International Edition.  Be prepared to be horrified while laughing your ass off at my current Anonymous Guest Blogger's posts.
I also requested that anyone who wants to be an Anonymous Guest Blogger here on my Show & Tell series, check it out at the button below & contact me.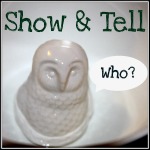 I introduced many of you on Facebook to what a Cupcake-Top Sandwich is.  You're welcome.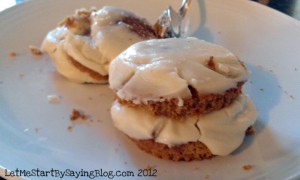 I found someone something even more delicious than that on Pinterest.  Again: You're welcome.
Write on Edge asked me to write something violent, where conflict is imminent. As you wish, my Queens….
I ripped both pairs of my favorite jeans in the same (weird) spot, because of the (weird) position I sit in when I write.  Which means I am writing a lot.  Sacrificing these jeans is acceptable, knowing that I'm doing what I love in them.
Related Note: I need to go jeans shopping next week.
I sum up How "Uneventful Weekends" change once you have kids.
Then…SURPRISE! Trifecta awarded me 1st Place in this week's 3-333 word challenge on the prompt "Fool" for my piece A Dangerous Dance.  Thank you so much!! Again!
I bragged about some of my friends on Facebook:
– Like Naps Happen & her 1st contribution over at NickMom.com.
– Like Splendid Junk for getting featured on Etsy's Home Page (she sells vintage stuff…and I want it all).
– And Ninja Mom for being funny, being interviewed, being both a clever poet and a naughty poet.  Then? Because she doubted how far I would take her taunts about being the President of her Fan Club?
I made Ninja Mom Blog Fan Club T-Shirts (yes, for real. now buy one. or a dozen.)
Finally, a a 33-word very short story about The Secrets of a Married Man.
So as of this week, I'm a prestige-winning, cupcake-eating, blogging & Facebooking Fool who is the unofficial President of the Ninja Mom Blog Fan Club.  
Makes you kind of excited to have taken the time to read this, doesn't it?
~ ~ ~ ~ ~ ~ ~ ~ ~ ~ ~ ~
Welcome to Let Me Start By Saying… Thanks for visiting!
Also, if you have

any

love in your heart, you'll click the bar below:

Comment with Your Facebook Account
Comments