I know not everyone has to time to follow my every move*, so I thought I'd help you out a  bit.
*Work on this, people. It's called "Priorities".
I was a bit of a Posting Fool this week, so here's a little Round-Up of what happened, what I wrote & where I've been:
~ ~ ~ ~ ~ ~
Last Weekend the picture of my complete list of House Rules (so far) got passed around & around on Facebook, taking me by surprise. I'm sure lots of kids will be annoyed at me for reminding their mothers to not let them light fire to anyone in the house.  Sorry, kids!
I wrote a 33-word Love Story.
Added some more books I've reviewed to my Amazon.com Book Store.
Shared the 7 disconcerting reasons I was pretty sure I was turning into a Werewolf.
Don't tell my mom, but I somehow got into a Twitter conversation about vulva jewelry (the kind with vulvae on them, not that you put..um…ouch) with a group of troublemakers @NarragansettNo7, @TheBeardedIris & @MotherhoodWTF (No7 totally started it!), which resulted in my sending a special bday gift to one of them, who decided to thank me by sharing a photo of some..uh…just desserts.  I am scarred for life.
Somebody (somebodies??) over at Studio30 Plus nominated me as "Best Mommy Blogger" for the 2012 Boomerang Awards.  I have no idea who did it, or what I did to impress them last year, but I am very grateful…and hope you take a chance to check out this community and vote for your favorite tall, blonde, frosting-swilling girl.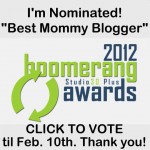 Then I got all weepy composing a post about Friendship, which turned into an unintentional love letter to the women in my life.
I jumped in on the Finding the Funny link-up again.  You. Must. Go. Every Wednesday.

For the first time on my blog, I went intergalactic on your asses.  I'm oddly proud of this fictional piece, even if it confused some readers at first.
Asked people to take pictures of themselves glammed up, doing regular household stuff for the upcoming The Glamouring website.  (This is gonna be fun. Trust me.)
Tried to come up with something – anything – even close to equivalent to chocolate.
Wrote a dark & edgy 100-word fiction story, done to a computerized electronica beat.
I also added 1700 words to my book in less than 2 hours one morning, proving that once I got some badass antibiotics in me to kill this almost 3-week-long sinus infection & bronchitis, as well as steroids to open up my long-suffering asthmatic lungs, I can work miracles.  I'm fired up, almost snot-free and ready to push through to the end of this chapter (<– ha! Get it? My book?  "chapter"?? Ahh….so funny…)
So there you do. Now you can clear out all those unread bits & bobs in your Reader.
You're welcome.
~ ~ ~ ~ ~ ~ ~ ~ ~ ~ ~ ~
Welcome to Let Me Start By Saying…  Read About Kim or laugh at Favorite Posts.  Thanks for visiting!
1 click below & I'll be your Valentine! xoxo

Comment with Your Facebook Account
Comments