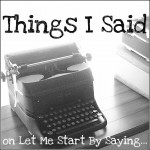 ~ ~ ~
'Tis the season to be crazy.
Fa La-La La-La. La-La. La. Oy.
<– That is a button you can click for past Things I Said
~ ~ ~ ~ ~ ~ ~ ~ ~ ~ ~
Nobody wins when everybody whines.
Relax. I'm bigger and stronger than the Grinch.  He can't steal Christmas as long as I'm around.
Please try not to punch Daddy's private parts.
I love you, too.  Now get off me.
*pretend-dials cell phone* Hi, Santa?  It's Kim.  We're in Target.  Do you see how they've been behaving?  What should we do about that??
Hands off her, lips off him, now SIT DOWN and eat your breakfast.
THE ELF CAN SEE YOU DOING THAT.
Oh, yes, you poor thing.  Your life if more tragic than a Dickens novel.  Now get dressed so we're not late to school.
Is that a pretzel up your nose?  How do you not notice that?
What crazy things have you said this week?
~ ~ ~ ~ ~ ~ ~ ~ ~ ~ ~ ~ ~ ~ ~ ~ ~ ~ ~ ~ ~ ~ ~ ~ ~
1 click below = 1 vote = 1 Very Merry Kim
Comment with Your Facebook Account
Comments