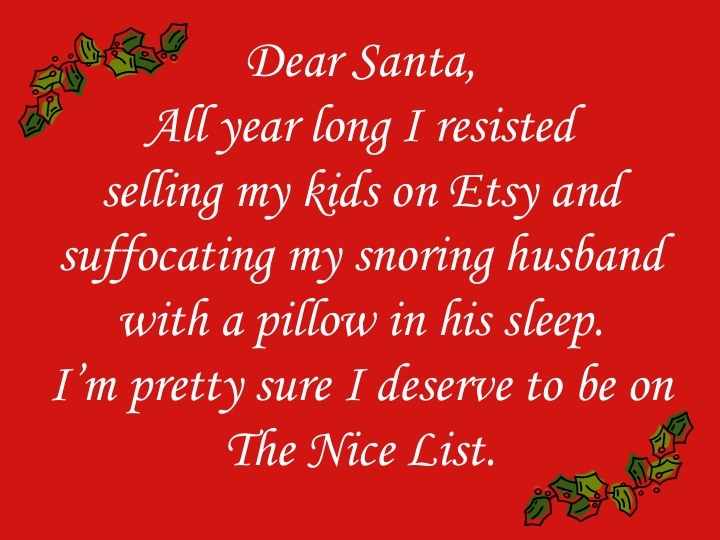 Dear Santa,
We need to talk.
First, you sent me a pill-popping whorishly Naughty Elf.  That was a lot to clean up after.  You know how hard it is to delete Elf Porn off one's laptop?
Secondly, I am tired of doing all the work to prepare for your arrival, only to be forgotten by my loved ones on Christmas Day.  An empty stocking makes me all Boo-Hoo and Pouty.
So, I'm gonna be real specific with you today.  This is what I want:
1. I want my kids to stop whining.  Obviously.
2. I want my husband to stop acting like he doesn't know how to run a dishwasher or do the laundry, and get on that shizz on a regular basis effective immediately.
3. I want the local newspaper people whom I have called at least 6 times in the past 4 years to cancel their free newspaper delivery to Stop Delivering Their Free Paper To Me.  It ends up being driven over or rained on every week, and I'm tired of peeling its sodden, mulchy remains off the end of my driveway.  It's both really gross and very wasteful.
4. I want people to stop yapping about their very personal lives extremely loudly on cell phones in public.  I do not need to know about that weird mole with the hair in it that their Gynecologist found, or who their married neighbor is sleeping with, thankyouverymuch.
5. I want family members, friends, neighbors and acquaintances to stop speaking to me in code, double-speak or innuendo.  I don't play games, I don't have my official Jedi Knight certification yet, and I don't have the patience for this bullshit.  I need them to simply talk to me directly and tell me what they want, need, hope for, or think I need to know in normal sentences, directly.  I wear my Big Girl Panties on a daily basis.  I can handle The Truth.
6. I want more delicious things to be made out of ingredients that do not include chocolate, which you know I am allergic to, and to include more fiber, because of all my ass troubles.
7. I want some more owl coffee cups and professional neck massages.
I do hope this list has found you in good health (despite the fact that you are dangerously overweight), a jolly mood (despite the fact that a large portion of The World's Children are depending on you not to screw up next week), and with an open mind.
I've been very good this year.  I swear.
(Just don't ask my kids for verification.  They tend to exaggerate.)
Thank you kindly,
Kim
P.S.
If you have time, after meeting all my needs, to throw a few holiday wishes in the direction of my friends & readers?  They've been quite nice to me this year.  So please don't forget them.  Because they rock.
~ ~ ~ ~ ~ ~ ~ ~ ~ ~ ~ ~
1 click below = 1 vote = 1 Very Merry Kim

Comment with Your Facebook Account
Comments