I may humorously whine aplenty.
But it seems I don't actually legitimately complain enough.
I am an optimist with thick skin, high pain threshold, and a resiliency that has been making me think other people are helpless babies since I was a baby.
These facts can be problematic when you have a really, really, really sore bum as an adult.
I figured that a Thursday surgery would find me able to drive my kids around by Monday.
That after asking a multitude of friends to drive around and care for my kids last week and during appointments in the previous weeks as well, I could stop asking favors by now.
Not. The. Case.
And I hate it.
Especially because I hate to complain about how much pain I am actually in or ask for help when I didn't plan on needing it.
A friend recently said to me: "We show people how to treat us"
My husband is happy to pitch in (as he Muthuh Lovin' Should!), but is not used to doing the one trillion little tasks a day I do in the wake of my kids and, um, my husband.
So he doesn't fully realize what I mean when I say "I need you to take care of everything" until I am hunched over, cry-walking to the tub for a sitz bath 3 days post-op muttering about how I can't do anything anymore other than try to sleep, try to manage my pain, try to eat every 4 hours when it's time for another dose of pain meds.
I am so used to being dependable, self-sufficient, thinking about everything ten steps ahead…being efficient…that this being a useless flop of recovering patient business is super annoying.
I mean, it's not like I'm asking him or anyone else to do anything I wouldn't do for them in return.
But, still.
GAH!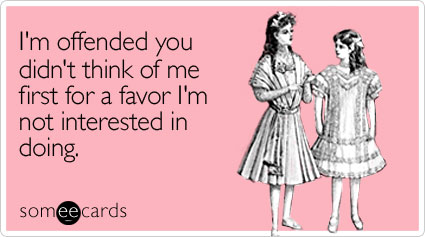 I hate leaving voice mails and texts asking friends and schoolmate moms to do juuuuust a little bit more for me.
I hate having not prepared enough in advance for such a long recovery.
I hate being mad at my husband for not magically recognizing the trillion things that need to be done around here when I physically can't do it.
And I hate thinking I may be an idiot for having planned our big holiday party…for this Saturday. At our home.
I'm going to be mad at myself if I feel too much like shizz to swipe on some mascara and enjoy hosting this Saturday's holiday party. This is the one time a year we fill our home with friends and neighbors, safely drink it up to celebrate sans kids, make my basement into a dance club until 2am.
Mind you, friends have low expectations this year: they know they will help me with cooking and setting out the hors d'oeuvres, getting the dance floor going, cleaning up.  Husband will enlist the kids to help get the tree, decorate the house, and so on.
But, still.
What the hell was I thinking?
Right now I'm on the couch on a Monday morning, other people shuttling my kids around, offering to bring me lunch, at the ready to pick up any groceries I need because I'm in farking pain, kids.  Pain.
I'm trying to decide whether my ever-present Optimism which is insisting that I am Resilient enough to recover quickly from this ass surgery, that I can manage this party, that I can enjoy myself with my friends this Saturday is a good & healthy thing…
…or if I am somehow accidentally on crack/suffering from a forgotten childhood head trauma.
Funny how similar Optimism and Being Freakin' Out Of My Mind seem to be right now.
So if I ask you for (yet another) favor?
I apologize.
I'm just trying to remind people that I am not, in fact, a completely self-reliant Robot.
Hello.  My name is Kim.  And I?  Am an overly-optimistic Human Being.
~ ~ ~ ~ ~ ~ ~ ~ ~ ~ ~ ~
1 click = 1 vote = Happy Kim

Comment with Your Facebook Account
Comments