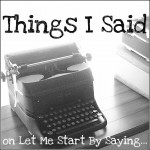 ~ ~ ~
Isn't family travel a hoot?
<– That is a button you can click for past Things I Said
~ ~ ~ ~ ~ ~ ~ ~ ~ ~ ~
At Home, Before We Head for the Airport
I'm sure it is simply fantastic, but I am not coming in there to check out your poop while I'm in the middle of eating my lunch.  You can tell me all about it when I'm done.
Could you two two please at least pretend you're not scratching up my kitchen floor?
Could you two please at least try to play without screaming or danger for five minutes?
A Big, Family-Sized Black Friday Field Trip
Put your coats on, we're going out. Yes, all of us. Yes, shopping.
Shhhh….it's okay, baby girl, you can sleep here*.
*on the mall floor, just outside the Lego Store, amidst the feet of a bagillion shoppers.
Back at the In-Laws' Apartment
Could you please get your donkey off my face?
Please don't throw that. Or touch that. Or jump on that. Or run. Or yell. Or…ugh, never mind. Just don't break anything, please. 
I know you want to play, but no one else will be up for at least three more hours. So please. Be. QUIET. And stay on your bed. No, not Daddy's head. YOUR. BED.
It's okay, guys, just because she tries to feed you every few minutes, doesn't mean you actually have to eat.  
I guarantee with a little less whining with your mouth and a little more looking with your eyes, you'll find where those stickers go on the page.
Put the spoon down and stop eating rice off the floor.
Was that your head I just tripped over?
What crazy things have you said this week?
~ ~ ~ ~ ~ ~ ~ ~ ~ ~ ~ ~
1 click = 1 vote = I love you
Comment with Your Facebook Account
Comments