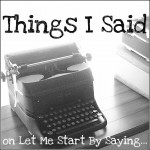 ~ ~ ~
I traveled solo with my kids for 4 days to my Mom's house.  Both kids were messed up from DST, they had to share a room, & my 4yo decided to be a total asshole for the entire trip. Good times.
<– That is a button you can click for past Things I Said
~ ~ ~ ~ ~ ~ ~ ~ ~ ~ ~
ON THE ROAD AGAIN
Don't call her a Stinky Baby.  Don't call him a Butt.  Just get in the car, both of you.
We've only been driving for 4 minutes.  We have 4 more hours to go.  You better stop saying you're bored already, or I'll toss that Leapster right out the window so you can suffer just as much as I am.
She has no control over your eyeball becoming fire. Ignore her.
Is the answer to this question: 'The girl smacking herself in the head'?
AT GRANDMA'S HOUSE
Don't stand on your sister's back. Even if she asks you to. Even if she tells you to.
[When friends stop by before you all go to dinner] Okay, everybody, don't get too crazy… 
Don't throw animals at Grandma.
There's no looking for someone else's brain while they're sleeping.  Give me the flashlight.
I'm TIRED.  I'm CRANKY. I'm very likely to YELL. Just…don't talk to me in the morning until you start sleeping til you're supposed to again.
No.  No more questions.  I will not discuss the Solar System any more until at least 7am.  And get off my head, please.
FINALLY: HOME SWEET HOME
Who put glue in the sink?
Don't step in his mouth.
While I am impressed with your creative talent for coming up with new fake things to decide you're scared of at night, there's absolutely no way at all I am going to share a bed with you.  So buck up, Buttercup, or it's gonna be a long night.
What crazy things have you said this week?
~ ~ ~ ~ ~ ~ ~ ~ ~ ~ ~ ~
1 click = 1 vote = I love you
Comment with Your Facebook Account
Comments