I'm doing a Listography Post, via Kate Takes 5, because it's a quick one about something that kind of tickles me.  I'll explain more about this at the end.
My Top 5 All-Time Search Terms
#5 Potty Training
I like to throw in a little Barney Stinson when describing how my daughter potty trained, or vent as I sit on the bathroom floor, waiting for my kid to 'go'.  No real good advice here, only empathy.
#4 Rock Star
My most popular post is one I wrote in a matter of minutes in my head while changing the sheets on my bed: How Being a Parent is Like Being a Rock Star.  But the fact of the matter is people Google "rock star" and arrive at me.  My job is done here.
#3 Hanna Barbera Cartoons
I love tv. I let my kids watch it. I wrote about how all the cartoons of my youth did not lead me to becoming an anvil-tosser or bunny boiler.  Seems I'm not the only one who loves me some old school cartoonage.
#2 Lemons
I'm guessing that most people are looking for recipes or cleaning ideas, not a vague post about my shitty summer.  But, once you get there, you can easily find my most curse-laden post to date. Which is pretty exciting.
#1 House Rules
I have a few pages (yes, I've had to add to it) of crayon-scribbled house rules hanging in my kitchen.  I explained them in a post cleverly entitled "House Rules".  This concerns me a little, in that large quantities of people have homes so in need of order, that they are willing to take into consideration some of my rules, such as "We don't light people on fire, not even pretend" or "No breaking the walls."  This cannot bode well for society.
And this is where I bend Kate's rules a bit.
I'm supposed to "not count blog name" in this countdown.
But…people Google Search me or Bing me via Let Me Start By Saying Blog most.
Which tells me?
There are people out there deliberately searching for me, or telling their friends to look me up.
And this?  Just about makes my day each time I see it.
So…people?
YOU are my #1 term.
[insert big wet kisses here]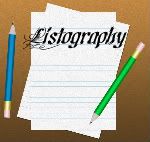 ~ ~ ~ ~ ~ ~ ~ ~ ~ ~ ~ ~
1 click = 1 vote

Comment with Your Facebook Account
Comments