Last night, as many of you know, a tea party took place in my home.
At first glance, all was going well.
A couple of you noticed that, since everyone was invited, there were a few characters in the crowd that might stir the pot a little.
It didn't take long for things to get kinda heated.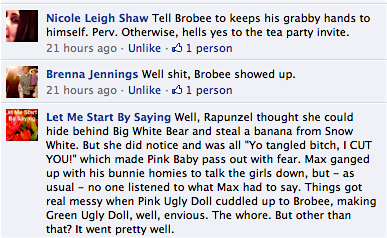 I thought the trouble had been averted, that I had things under control, but–as you know–no one under 5 feet tall listens to me.
And so, ladies and gentlemen, this is what happens when tea parties go very, very wrong.
First, Snow White exacted revenge on Rapunzel.  She cut the bitch.
Oddly enough, this wasn't scary to Max & his bunny homies. What put them over the edge was Ruby showing up to the tea party after her Bunny Scout Meeting, during which she was awarded her Bunny Cloning Badge, much to the horror of everyone who deals with that patronizing jerk on a daily basis.
While this fight and escape were going on, I lost track of Brobee and Pink Ugly Doll.  Seems Brobee's got more moves off the dance floor than on.
Dirty Baby seized the opportunity to, well, cop a feel of Mae–who was simply shocked by his forward nature–and Muno, who, well…he's kind of phallic-shaped anyway, so he liked the attention and maintained his usual dreamy grin upon the grope.
While I was saving Mae, Swiper did what he does best. And with Snow Whites's bananas, no less.
What really put things over the edge, in my opinion, is the prank someone pulled on one of the few well-behaved afternoon guests.
After that, I pulled the plug on the tea party, and everyone ended up in Their Usual Spot.
So…now the party is over, everyone has been sent home, and I could really use a glass of wine or ten.  That. Was. Exhausting.
Pure, unadulterated madness.
Like this? Subscribe today.
Find me on Facebook & Twitter.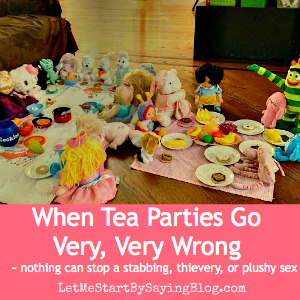 Comment with Your Facebook Account
Comments