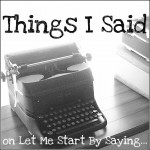 Balls, butts, necks, light sabers & hurricanes.
I've got it all not under control.
~ ~ ~ ~ ~ ~ ~ ~ ~ ~ ~
You know very well that I said "brush your teeth", not "wash your feet".
OW, that was my neck.
Did you ask Daddy if it's ok to play with your balls?
Please don't stand on the phone.
Just let go of your penis for a minute.
Stop it! We do NOT threaten each other! Now GET in the TUB before you're BOTH in trouble!
You might not want to give a baby a lightsaber if you don't want to get hit by a lightsaber.

You are so NOT The King of the Butt.

Can you please stop doing things that could potentially injure you?

Can SOMEONE please listen to SOMETHING I say at SOME point today?

Put your shoes on.
PUT your shoes on.
PUT your SHOES. ON.
Put. Your. Shoes. ON!
PUTYOURSHOESON!!
And a few that were directly related to the hurricane:
We can't go get a leaf a right now, baby girl, sorry….because there's a hurricane outside…no, not even if you're Super-Fast.
No, the basement isn't dry yet. (<– repeat 386x)
No, the Wii isn't fixed yet. (<– repeat 413x)
Put. The branch. DOWN. (<– repeat 297x)
Yes, you can poop in the dark.
What crazy things have you said this week?
~ ~ ~ ~ ~ ~ ~ ~ ~ ~ ~ ~
Welcome to Let Me Start By Saying…!  Read some short memoir posts here, the About Kim page, or for some funny, check out my Favorite Posts page.  Thanks for visiting!
1 click = 1 vote = I love you
Comment with Your Facebook Account
Comments