I have no idea who in their right mind let me and my 3 girlfriends watch Stand By Me.  It came out when we were only 10 years old, and was rated R.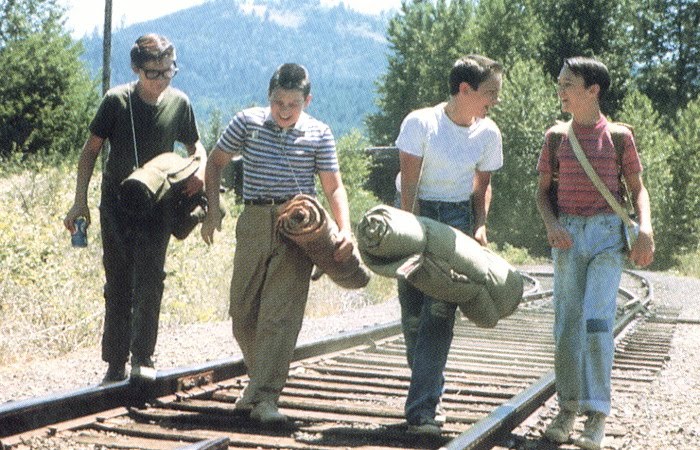 But I loved it.
Gordie, Chris, Teddy and Vern. Friends despite the odds, the times.  They had an adventure like none other I had known until that point, and I had already read most of the Young Adult section of my small town library.
The train, the leeches, the hunt for the body of a dead boy.
"Sic balls" is still the first thing I think when I see a running dog.
I had dreamed of being an actress since I was born. But you need a certain face, a certain body, certain limbs to be one.
You also need talent, training and support.
I entered Finishing & Modeling School the same time I entered the teen years, which gave me certain preparations.  But it was all poise, speech, clear skin.
While losing my accent, perfecting my walk, I also scribbled poems, stories, short plays in notebooks, imagining myself on stage, on screen.
I devoured books, seeing the words as movies in my head.
Drama club wasn't an option in high school, but I hoped college could be my chance.
Then River Phoenix died in 1993, making the first movie I couldn't shake from my bones rush back to my mind.  I decided to take my love of stories to college as an English major.
I drank more books and movies down like a parched castaway.
I felt alone until I flipped pages.  I felt abandoned until a dark movie theater hugged me.
Then suddenly, I stopped my notebook scribblings because Life pounced on me. I became too distracted to believe in myself and no one else did it for me.
Years passed.
Eventually I found a place that was truly home.  I made a family.  I was surrounded by friends who really saw me.
And I dreamt a dream I'll never forget.
Today, as I wrote how a little movie about four friends began my path from wannabe actress to a writer-in-the-making, I cried when I came back to the scene that struck me most:
Gordie

: Fuck writing, I don't want to be a writer. It's stupid. It's a stupid waste of time.
Chris

: That's your dad talking.
Chris

: Bull true.
Chris

: I know how your dad feels about you. He doesn't give a shit about you. Denny was the one he cared about and don't try to tell me different. You're just a kid, Gordie.
Gordie

: Oh, gee! Thanks, Dad.
Chris

: Wish the hell I was your dad. You wouldn't be goin' around talkin' about takin' these stupid shop courses if I was. It's like God gave you something, man, all those stories you can make up. And He said, "This is what we got for ya, kid. Try not to lose it." Kids lose everything unless there's someone there to look out for them. And if your parents are too fucked up to do it, then maybe I should.
Chris saw who Gordie really was, saw what was keeping him from being who we was meant to be, and insisted he not waste his gift.
It took me over thirty years to find a place where I was padded at all angles by people who insisted that my words had a place.  That demanded I let it out.  That allowed me to finally Get It that I am a writer.
All these years I was just waiting for someone like "Chris" to demand I actually write stories rather than read or watch them.  That it was what was inside me that had the most to offer.
Then one night I had a dream.
And so?
I began to write for real this time.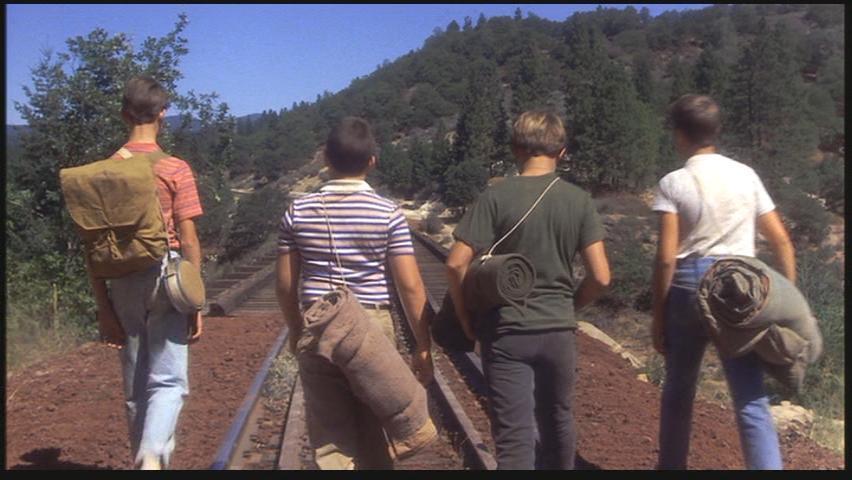 ~ ~ ~ ~ ~ ~ ~ ~ ~ ~ ~ ~
This post was written for The Red Dress Club RemembeRED Memoir writing prompt.
The prompt went like this:
Everyone remembers that first inspiration or mentor in their lives that made them want to be or do something in their lives, whether you actually followed through with it or not. Tell us about that inspiration/mentor. How did they affect or change your life?
I used to blast the soundtrack to Stand By Me in my basement with my 3 girlfriends, and we'd sing along to every song.  I would lay in bed rolling scenes over in my mind, imaging the scenery, the words, the other kids in the film.  It was so rich to me, I was enamored.
I didn't have a crush on any of the boys in it.  I had a crush on the words that wove it.
Finally, when I was a new mom to 2 little kids and completely overwhelmed, original characters began jumping from my head.  Plots made my dreams just as rich as that movie.  I was too tired from my days to battle with the stories that begged to be released from my imagination.
And I actually had the husband and friends around me who saw a storyteller.  Which is all I ever needed to get here.
So here we go.
~ ~ ~ ~ ~ ~ ~ ~ ~ ~ ~ ~
If you are new to Let Me Start By Saying…welcome!  I have some more short memoir posts here.  Or check out About Kim.  For some funny, read my Favorite Posts page.  Thanks for visiting!
Comment with Your Facebook Account
Comments