On Monday night, I posted a link on Facebook to an old post of mine that still cracks me up.  Taking the Plunge contains my reflections on a random day in my teenage years with my father, and how it ties to a shocking poop situation I faced with Mr T.
"Kid id" (aka: From Diapers to Diatribes) and I were having a nice little chat in the comments section about the joys of extracting feces from our kids' rectums, during which we both agreed on one key point:
Our conversation continued, and I got to thinking.
Hm.
Did my kids come with warning labels?
Did I miss something?
I admit that I was rather distracted during the delivery.  I had lots of swearing and shouting to do at first, and then someone came after my sore lady parts with a needle & thread, which meant I had to kick at her until I could get someone to bring me some Advil.
So I decided to go back through some of the first photos post-delivery, for research purposes.
Pretty gross beautiful, dontcha think?
Then I took a closer look.
It seems those tricky bitches in Labor & Delivery have been sneakily slipping the WARNING labels off our babies, and using them to wipe the belly button clamps clean as a distraction.  This makes them so covered with vile uterine juices that new parents refuse to inspect them, despite the hints of information that peek out at our exhausted eyes.
But I did us all a favor.
I zoomed in with all my fancy Mac skillz, cut out all the partial and blurred images from pictures my snap-happy Husband took while I delivered Mr T, and edited them together.
Which means?
I now can read the WARNING label the L&D nurse deftly stripped from my son's nude, cheese-covered body as he exited my flower (is this the real reason they scream after delivery?  I mean, it totally hurts like a bugger getting BandAids pulled off, I couldn't imagine the pain of peeling off a large label that was adhered in utero must cause a newborn…ouchie!).
For your reading pleasure, and my reference, here is the label that was affixed to my son during his gestation, which those cunning nurses deprived me of at a time when I needed the information the most: Before it all happened.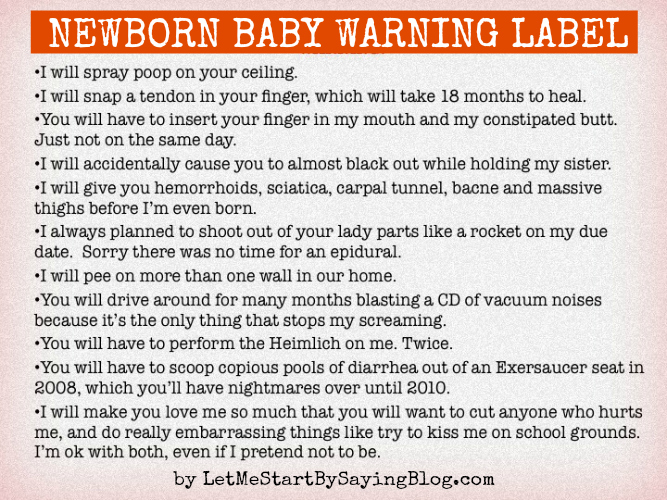 It seems that everything his label was warning me about already happened, so I guess this isn't too helpful for me at this point.
But for all you pregnant ladies out there?
My loss is your gain.  Conspiracy uncovered!
Here's my advice:
Once that kid pops outta you, kick the bitch who tries to catch him first, have your partner grab that baby before anyone else involved in this Conspiracy to Fark With New Moms gets her hands on him, and immediately memorize that WARNING label.
You'll thank me later.
Comment with Your Facebook Account
Comments