After a rough few weeks (no, I don't want to get into it), I had a handful of Awesome on Monday.  Over the weekend I had watched The Bloggess's speech about being Furiously Happy* and at the end of Monday, I couldn't stop thinking about it.
*If you don't have time to watch the whole thing, which is sad because you'll miss when zombies murder a portion of the audience pre-speech, start this video up at 4:00 which is when she really gets into explaining what being Furiously Happy is all about.
Tuesday morning I woke up and realized that I laughed and smiled more the day before than I have in almost a month.  The things that made me so happy may not seem like big deals, but they were exactly the tonic I needed.
So today, instead of complaining about how loud/messy/whiney my kids are, I am going to tell you about how I came to have such a furiously happy Monday.
4 Things That Made Me Furiously Happy
1. I'm a Nice Wife
We all get into routines with our spouses that aren't all about Fun & Romance.  It is more about Bills & Get These Frigging Kids In Bed Before I Scream.   Monday, when I saw my husband smile, it hit me how much I love him and how much he appreciates the kind of person I am, which is the kind of person who makes her husband feel great on his birthday.  He awoke to a fully decorated house with balloons and banners and singing (something I have always done for him since we met 11+ years ago).
Celebrations lasted all day.  There were party hats involved.  Seeing how tickled he was made dragging my kids to Party City and many other stores in preparation for this totally worth it.
How I felt about him that day helped me wake up the next morning and write a heartfelt memoir post in a matter of minutes.  He inspired me without even knowing it.
Which is pretty cool, if you ask me.
2.  Cake & Twitter
After a plea on Twitter, I got a carrot cake recipe that is so silky and delicious I am deliberately working out all week in order to partake in many warm slices of it.  I made my own butter frosting and the result was holy moly.  This cake is divine.
Yet another reason to be happy?  Twitter.  I am amused daily by a gaggle of people with a similar sense of humor.
Also?  It helped me make this cake, and cake always makes me happy.
3. Child Labor & Fluff
I organized the basement.   Does this sound fun?  Absolutely not.  But it has been far too long and I knew Husband would be thrilled to see the 4,012 toys that somehow migrated up into our family room get sent back down to where they belong.
And it would be nice to not step on Legos quite so often.
There is chaos dancing around my life, so I craved a little order in my home.  So I sweat and swore and dragged bins of crap toys around and threw stuff out when their backs were turned reorganized the kids' stuff.  The house just feels calmer now, more peaceful, which is making me smile.  I set a goal and achieved it, which felt great.
At one point yesterday I even got the kids to work on their own down there, and snuck upstairs to take a little break, by myself.  This was an accomplishment I did not expect.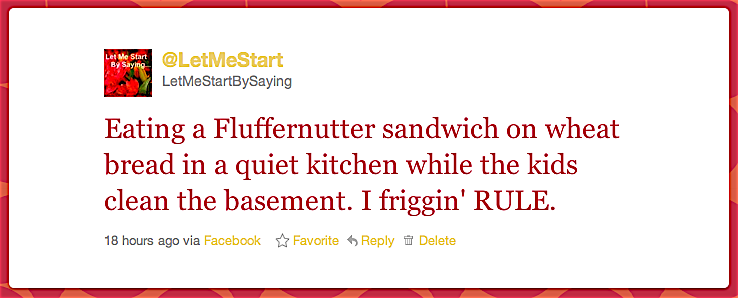 So now not only do I have an Organized Basement rather than a large room full of Toy Soup, fluffernutter sandwiches have been reintroduced into my life.
And finally?  The best part?
4. Me vs A Shark
When asking the kids what we need to do to celebrate their dad's bday, they had many great ideas, but my favorite was the piñata**.
**A word that neither of them can say correctly (piazza? pee-yansa?), which exponentially adds cuteness and funny to the experience.  So obviously I prompted them to say the word about ten times an hour all day long.  Seriously, hearing them say it does not get old.
I bought the cheapest one Party City had in stock a shark one and hung it in the kitchen.  After Husband and kids took their turns at bat, I got to take my frustrations out on a bright blue sea creature made of paper and filled with candy.
I hit him so hard with that bat that I broke the hook off the wall and sent Mr. Sharkey flying across the room about 30 feet.  Luckily, it hit a lamp before the window, which made it super funny yet not an expensive accident.
In the stunned silence once the shark hit the floor, our 6yo said "That was AWESOME!!!" which made me laugh so hard I cried and this got my husband laughing even though he was trying to be mad at me for aiming a large airborne object towards a window-filled room inside the house.
In summary, all it takes to make me furiously happy is to:
Remember I'm not that bad a wife
Get Tweep Assistance that results in cake
Let my inner OCD out
Beat the shizz out of a shark in my kitchen
And did I mention there is still leftover cake?
What has made you happy this week?
~ ~ ~ ~ ~ ~ ~ ~ ~ ~ ~ ~
If you are new to Let Me Start By Saying…welcome!  Check out the About Kim page, read some of the short Memoir Posts to get a peek into my past, or for some funny, see my Favorite Posts page.  Thanks for visiting!
~ ~ ~ ~ ~ ~ ~ ~ ~ ~ ~ ~
If you like what you read here, please click the VOTE FOR ME! brown banner below. 1 click = 1 vote…thanks!
Comment with Your Facebook Account
Comments