It is blurry and you can't even see our faces, but this (rare) photo of me and Mr T is a perfect example of our relationship.  I grin each time I see it: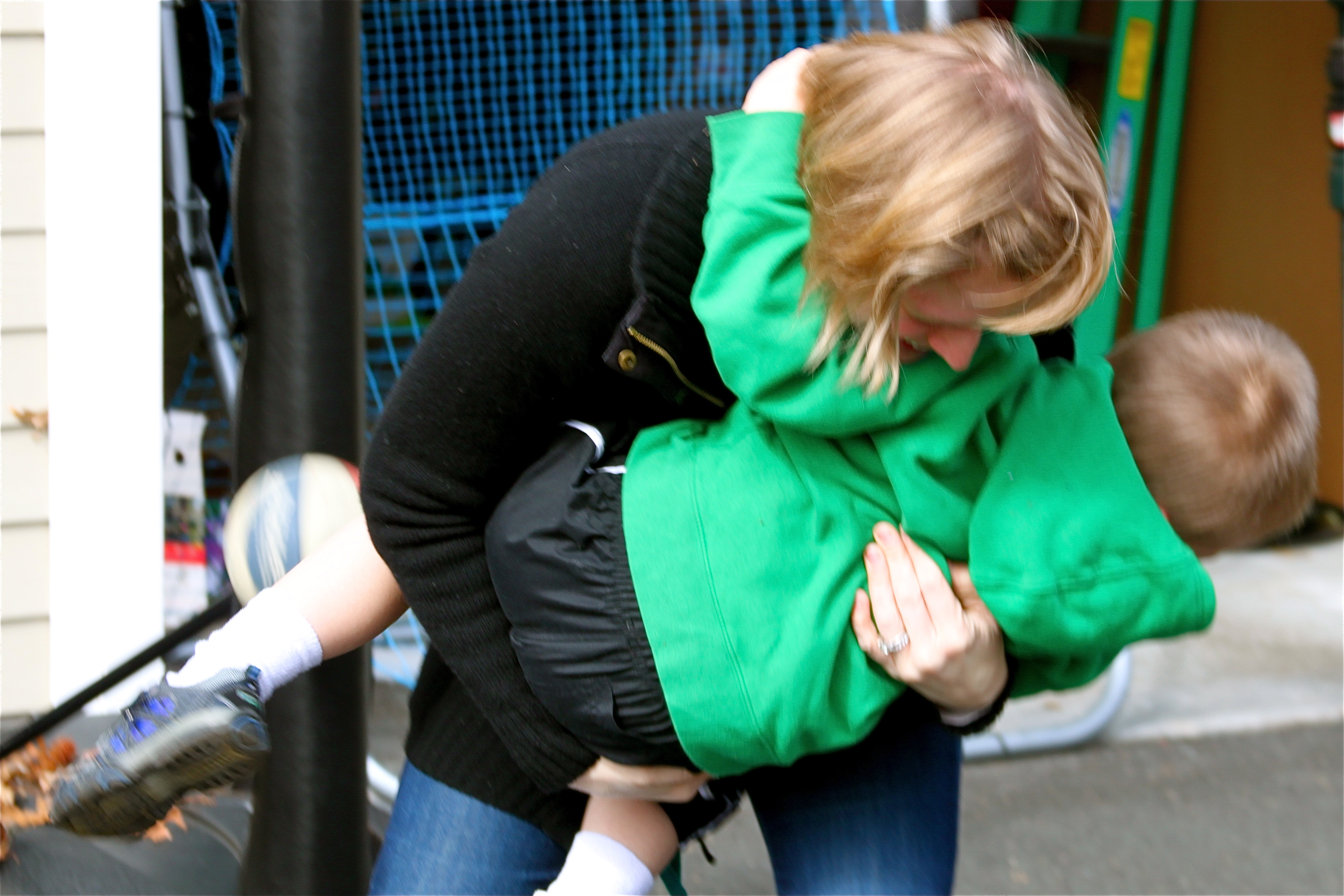 He brings out the silly in me, makes me laugh and pick him up and wrestle and play games.
He is a natural athlete and tries his best at every sport, asks questions and actually works on getting better each time he throws, catches, kicks, or swings.
He's a joke-teller and a really, really sweet kid.
He does things that catch me by surprise, even when he was real little, like stop and take in the scene around him when he could be running amock like the other kids.
I don't think I talk about him as much as Miss A around here, simply because he isn't as annoying as her.
Don't get me wrong: he is annoying*.  He just doesn't challenge me as much as his little sister does.  He doesn't really stress me out or cause me much anguish.
*News flash:

all

kids are annoying.
Except for when I delivered him.
Have you ever heard of those women who spontaneously go into labor and shoot a kid from their loins faster than one can say "Get me a damn epidural!"?
That would be me.
Six years ago today, on my due date for my first child, I was on the phone with a girlfriend as I puttered around the apartment getting ready to go to a morning matinée of a new movie.  Since it was Friday, she was at work, so she had to stifle her giggles when I got her off the phone by saying, "Gotta go.  Either I need to poop or I'm in labor"
Ha ha ha.
Ahem.
I, well, you know, and go to wash my hands.  My first contraction knocked me so hard I had to cling to the sink to not fall on the floor.
Two hours later I am in the hospital being told that there is no time for pain meds, I am going to have this kid whether I am ready or not.
I'd love to say I embraced this information with grace.
I did not.
Through a combination of yoga breaths and loud curses I managed the pain of delivering my son at warp speed** and without my much-pleaded-for epidural.
**"Warp speed" being 2 hours 45 minutes from 1st contraction to delivery.  Ouch.
Was he worth it?
Oh yeah.  He's very cute.
Would I do it drug-free again?
Hells no.  Shooting anything with shoulders 400% wider than your Lady Lane hurts like a MoFo, no matter how Zen you're trying to be.
But at least he came on his due date, which just proved how much he respected my need to always be on time.
And just like that, I became a mom.
In celebration of his birthday today, and since I don't talk about him enough, please allow me to take you through a few stories I have shared about Mr T and his adventures.
Like his thoughts on vulvas.
This short post shows how he keeps me sane at the end of my long battle-filled days with his sister.
This is one of my first posts.  The moment I laid my hand on his sleepy back, it began to write itself.
Becoming a mom gave me so much material to write about, some good and some not-so-good.  It also made me refocus my goals and hopes and dreams both for myself and for my kids.
It also gave me hemorrhoids.
These days I work hard to balance living with both these lofty goals and the painful swelling in my ass.  These are difficult tasks, but if I had to give him back to be free of both?
Not a chance.
And now?  Time for cake.
~ ~ ~ ~ ~ ~ ~ ~ ~ ~ ~ ~
If you are new to Let Me Start By Saying…welcome!  Check out the About Kim page, read some of the short Memoir Posts to get a peek into my past, or for some funny, see my Favorite Posts page.  Thanks for visiting!
~ ~ ~ ~ ~ ~ ~ ~ ~ ~ ~ ~
If you like what you read here, please click the VOTE FOR ME! brown banner below. A single click on this each time you visit helps gain me more readers from the Top Mommy Blogs website. Thanks in advance!
Comment with Your Facebook Account
Comments