Someone thinks I'm stylish.
(Please don't laugh.  I'm serious.)
Don't believe me?  Then how'd I get this fancy little button: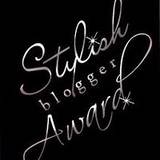 Robin at Farewell, Stranger surprised me with the Stylish Blogger Award, which rewards those blogs that exude "flair and honesty and humour".
You will notice that the criteria does not include actually looking stylish while having flair, honesty and humor.  (Otherwise I would not be sporting this sexy new award.  Obviously.)
I happen to agree that Style is something that one sees with her eye, but also a personality trait.  It takes style to respond in the right way to certain posts.  Tact, attention, reading more than just what is before you in black & white: really getting why the blogger wrote the piece in the 1st place and responding accordingly.  It is knowing your voice, your message, and sticking to it without stomping on anyone else's toes.
It also doesn't hurt to look fabulous while doing all this.
Now it is my turn.
Since, clearly, I am an expert on this sort of thing.
Kim's List of Stylish Bloggers:
Lindsey over at The Modchik has a blog you just want to stare at.  The constantly-updating collection of iPhone shots she has in the top-right corner are enough to make you wish you had her eye for photography.  But I've seen her in person, and can tell you she looks like the kind of person who knows where the cool champagne bars are, will help you order the kind of drink you'd like best, then chat you up with amusing anecdotes all night.
Noa is truly stylish.  Her photography, her kindness, the way she dresses.  Even when she tries to prove her "lameness", all she does is show us that she's handing the Stylish Torch to her daughter quite successfully.
Dana at The Kitchen Witch caught my eye with a post about cauliflower.  It was about so much more than that (weirdly white) vegetable.  Her photos make you hungry, her words keep you reading.  Her comments on my own posts are thought out, and much appreciated.
Ree is The Pioneer Woman, and I haven't given her a shout-out yet, I don't think.  She is a Goddess of Domesticity and I'd like to say I want to be her when I grow up…but there's no frigging way I could.  If you are one of the 6 people on earth who don't know of her yet?  Get thee over there.
The Bloggess did something last December that made me cry with thanks for this whole blogging thing.  She proved that there are people out there who care, and went above/beyond her call of Blogging Duty to help people who needed it.  She also does design t-shirts, but, um…I only think those count towards the "humor" part of qualifying for this award.
Thanks, ladies, for making the blogosphere a little more stylish.
~ ~ ~ ~ ~ ~ ~ ~ ~ ~ ~ ~
If you are new to Let Me Start By Saying…welcome!  Check out the About Kim page to learn more about me, or read some of the short Memoir Posts to get a peek into my past.  For some funny, check out my Favorite Posts page.  Thanks for visiting!
~ ~ ~ ~ ~ ~ ~ ~ ~ ~
If you like what you read here, please click the VOTE FOR ME! brown banner below. A single click on this each time you visit helps gain me more readers from the Top Mommy Blogs website. Thanks in advance!
Comment with Your Facebook Account
Comments